The Top-Selling Games of 2018, So Far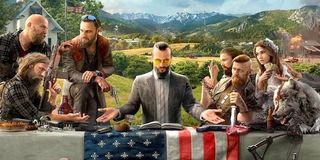 While the summer drought is arguably in full swing for the world of video games, the first half of 2018 has still been a busy one. The NPD Group has compiled a list of the top 10 best-selling games of the past six months, including offerings from just about every genre. What will really be interesting is seeing how many of these games manage to stay in the running following this fall's massive holiday shopping window.
The NPD Group recently announced all sorts of games sales statistics, which Fortune corralled and presented in a handy list. It's important to remember that the NPD no longer offers actual sales figures for these games, so there's no telling just how close the competition actually was. Still, here's a rundown of the games folks just couldn't seem to get enough of between January 1 and the end of May.
Considering the success of the series, it's no surprise to see Far Cry 5 at the top of the list. God of War taking the second spot is pretty impressive though, since it is only available on a single console, the PlayStation 4.
We're also happy to see Monster Hunter World so high up, as it serves as further proof that the cult series has finally broken through to the mainstream here in the states. It's also worth noting that the PC version is still coming, so MHW might actually move up in the list by the end of the year.
It's also not too often you see a fighting game pull down the big numbers, but Dragon Ball: FighterZ has spent the past five months utterly dominating the genre, so we're excited to see something new taking the fighting scene by storm.
Grand Theft Auto V still being in the top 10 just shows that the sky is the limit for that game, while Mario Kart 8 is still doing really well after being out for a year. We figure that has something to do with the number of folks who probably got a Switch for the holidays.
Finally, PlayerUnknown's Battlegrounds is continuing to perform well, even if it doesn't enjoy the same stranglehold it used to have on the battle royale genre. That honor goes to Fortnite, which would almost certainly be in the high running if it wasn't a free-to-play game.
Obviously, this list is going to change by the end of the year. On the horizon, we've still got Spider-Man for the PS4, a new Forza on the Xbox One and the annual Call of Duty, Assassin's Creed and Battlefield games.
If I had to make a guess, though, I've got my money on Red Dead Redemption 2 bringing home the top spot by the time 2019 rolls around.
Your Daily Blend of Entertainment News
Staff Writer for CinemaBlend.