Madden's New Senior Producer Is Already Leaving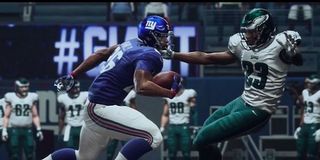 With Madden NFL 19 set to launch in just a few weeks, it has been revealed that the series' new senior producer, Carlos Guerrero, is no longer with Electronic Arts. Guerrero's departure is not a matter of creative differences or staff shuffling as projects shift, however. According to a brief statement from EA, Guerrero broke company policy.
Guerrero had barely settled into his new role on the Madden team when news broke this week concerning his departure. According to a brief statement from Electronic Arts to Gameinformer, it sounds like the split was specifically due to Guerrero's behavior. Make of this what you will. We could speculate, but that way lies madness. Here's how EA put it...
That's a pretty quick exit, considering the fact that Guerrero only shifted over to Madden at the beginning of this year. Before joining EA, he worked at Blizzard on games like Overwatch and World of Warcraft. That might sound like an odd change of pace, but it actually makes perfect sense considering EA's long-term plans for the Madden franchise. The publisher has implied it may eventually shift Madden to a games as service model, something any higher-up at Blizzard would certainly know a lot about.
You could actually think of it as a move to make Madden something of an MMO. Rather than buy a new game every year, maybe you pay a smaller fee for roster/uniform updates annually, with things like new game modes, gameplay tweaks and the like rolling out as they are made available, likely free of charge. The object here would be to make up the difference -- and potentially more and on a more consistent basis -- through microtransactions and the like.
With Guerrero being involved with a couple of Blizzard's biggest hits, it makes sense that EA would want to bring him in to help form the future of Madden. They've already got TV deals and the like in the works, so the plan was clearly to make EA's big football outing into an even bigger deal. Virtual football leagues, anyone?
With Madden 19 set to launch in August -- and with Antonio Brown on the cover, no less -- that big shift was not planned for the series this year. It's more likely Guerrero was already working on what would come next for the football series, presumably kicking off as early as next year. Even though Guerrero is no longer with the company, we highly doubt that EA is going to change course. In the meantime, Roy Harvey has stepped in as executive producer until a more permanent replacement can be found.
Your Daily Blend of Entertainment News
Staff Writer for CinemaBlend.