Hellblade: Senua's Sacrifice Is Coming To VR, And It's Free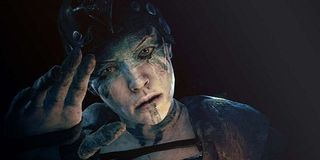 Hellblade: Senua's Sacrifice is about to get a lot more immersive thanks to a new mode the folks at Ninja Theory have been quietly developing behind the scenes: Virtual reality. The game has already been praised for how it gets into the headspace of the protagonist, which we figure is only going to be heightened once the player dons a VR headset and headphones. And the best part is, the VR mode is free on Steam.
Over on the Hellblade blog, it has been announced that a VR update will soon be available within the game. Set to launch on July 31, this mode will be playable for folks rocking an Oculus Rift or HTC Vive. Despite recent studies to the contrary, many developers see a bright future for virtual reality gaming, which probably explains why Ninja Theory has decided to keep plugging away on Hellblade in order to get the entire game playable in VR. Sadly, no mention of a potential PlayStation VR update just yet, so hopefully that will be an option somewhere down the road.
If you already own Hellblade or pick it up on Steam, the VR update will be available free of charge once its made available. And on top of the award-winning campaign being completely playable in a virtual space, the team has apparently crafted some additional "experimental game modes" for folks to take for a spin, too. As an added bonus, Ninja Theory is also promising a bevy of customizable options for player comfort, so hopefully, anyone who wants to play Hellblade in VR will find setting allowing them to do so.
It's been a big year for Ninja Theory, beginning in 2017 with the launch of Hellblade. They billed it as a AAA/AA game, meaning it would be a shorter, but less expensive adventure with all of the polish you would expect out of a major studio. When the game launched, it received plenty of fan and critical success, as well as quite a few end-of-year awards. The most praise was for the game's visuals and audio, which was designed in a way meant to portray a character dealing with mental illness. In other words, its greatest strengths are an absolutely perfect fit for something like virtual reality.
Next thing you know, Microsoft announced during E3 2018 that they had acquired Ninja Theory as a first-party studio, which presumably means all future projects will be PC and Xbox One exclusive. Following PlayStation exclusive Heavenly Sword, the studio went on to make multiplatform games like Enslaved and DMC. We doubt this shift to Team Xbox is the reason why a PSVR version of Hellblade has not been announced, though. Microsoft still supports games like Minecraft on other platforms, and it's a fact the PSVR isn't quite as powerful as competing hardware. Our hope is that Ninja Theory worked on the PC versions first and will now try to figure out a way to make Hellblade's VR mode viable on console. Fingers crossed!
Staff Writer for CinemaBlend.
Your Daily Blend of Entertainment News
Thank you for signing up to CinemaBlend. You will receive a verification email shortly.
There was a problem. Please refresh the page and try again.