Classic Beat-Em-Up Streets Of Rage Is Getting A New Sequel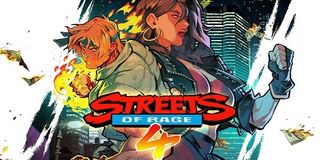 One of the most iconic beat-em-ups of all time is set to return to home consoles with Streets of Rage 4, a sequel more than two decades in the making. If you yearn for the glory days of side-scrolling, button-mashing arcade goodness, then feast your eyes on this rather lovely reveal trailer.
Anyone who grew up pumping quarters into Streets of Rage arcade machines, or perhaps playing the original trilogy on consoles like the Sega Genesis, is likely experiencing some serious nostalgia after watching the above trailer. It's short but sweet, introducing returning characters Axel Stone and Blaze Fielding, who don't seem to have lost a single step in the past 24 or so years. We get a look at some nice animated scenes, as well as a few clips of in-game action boasting the expected flashy kicking, punching and throwing. Also on display is a short scene featuring what appears to be an unknown woman wielding a rather massive snake, which we presume is the new series big bad.
In case you're wondering what all of the fuss is about, Streets of Rage is one of the series that most beat-em-ups use as a shining example of how to do the genre justice. It wasn't the first side-scrolling punch-a-thon, but many consider the series to be the best.
The original Streets of Rage first leapt onto the scene back in 1991, with a sequel to follow a year later. Streets of Rage 3 dropped in 1994, and then the series basically vanished. But while Streets of Rage has been hibernating, games like Castle Crashers, Scott Pilgrim vs. the World, Shank and more owe a lot to the tone that it set. Heck, you could even make the argument that games like the Batman Arkham series has a lot to owe to the foundation established by Streets of Rage.
While we're excited to see this reveal trailer for a brand new Streets of Rage, some key information is still missing. For instance, neither a launch date nor platforms were mentioned in the trailer, but feel free to drop in the obligatory "this would be perfect on the Switch" here. Actually, with a Switch Direct dedicated to Nindies airing this week, we wouldn't be surprised to see Streets of Rage 4 make an appearance.
Quite a few teams have been working on this particular project, including Dotemu, Lizardcube and Guard Crush Games. That last team made Streets of Fury a couple of years back, an homage to Streets of Rage that boasted a rather deep fighting engine. As for the other two, they're the teams behind Wonder Boy: The Dragon's Trap and will actually be providing hand-drawn art for Streets of Rage 4.
Staff Writer for CinemaBlend.
Your Daily Blend of Entertainment News
Thank you for signing up to CinemaBlend. You will receive a verification email shortly.
There was a problem. Please refresh the page and try again.