Streets Of Rage 2 Hits iPhone, iPod Touch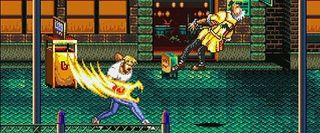 Sega has brought another one of its 16-bit brawlers to iOS. Streets of Rage 2 has joined its predecessor on the App Store and can be downloaded for $2.99/€2.39/£1.79/AU$ 3.99.
In Streets of Rage 2, the criminal mastermind Mr. X is back and this time he's kidnapped SoR1 hero Adam. His friends Axel and Blaze return to the streets to punch and kick the crap out of Mr. X and all his cronies. They're joined in their crusade by newcomers Skate,Adam's rollerblading little brother, and Max Thunder, a pro wrestler.
The iOS Streets 2 supports multiplayer via Bluetooth. Sega also threw in the original Japanese version of the game, Bare Knuckle II. You can access Bare by switching your handheld's language.
In the future, Sega plans to release Streets of Rage 3 for iOS. Medieval brawlers Golden Axe 2 and 3 will be brought to the App Store soon as well.
Staff Writer at CinemaBlend.
Your Daily Blend of Entertainment News
Thank you for signing up to CinemaBlend. You will receive a verification email shortly.
There was a problem. Please refresh the page and try again.