Assassin's Creed: Odyssey Is The Franchise's Best Launch This Generation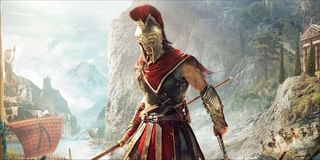 (Image credit: Ubisoft)
The latest Assassin's Creed game to launch for home consoles and PC has been Assassin's Creed: Odyssey. The game is a departure from the traditional stealth-assassin setup that helped define the series during the seventh generation, but it appears that departure has paid off decently enough for Ubisoft, given that the title has been the best launch of the series this generation.
According to IGN, Ubisoft has revealed that the 10-day launch period for Assassin's Creed: Odyssey has out-performed the three previous titles in the series that came out during the eighth generation of gaming. This includes Assassin's Creed: Origins, Assassin's Creed: Syndicate, and Assassin's Creed: Unity.
Ubisoft doesn't reveal the actual numbers, but the game obviously launched under far better auspices than Assassin's Creed: Unity, which was the first eighth-gen exclusive in the series. Unity had tons of problems after the company switched over to a different design architecture, which caused a lot of performance issues and bugs that Ubisoft spent more than six months fixing after its release.
Things didn't quite pick up for the series after that when Ubisoft launched Assassin's Creed: Syndicate, which starred a brother and sister duo as two playable assassins. The introduction of the dual-characters was received well by critics, but not so much by gamers. The sales for Syndicate paled compared to other games, and forced Ubisoft to put the game series on hiatus for a year while the major motion picture from Sony hit theaters in 2016.
Ubisoft then followed up on the movie with Assassin's Creed: Origins, which was a retelling of how the Brotherhood was formed back in ancient Egypt. Origins managed to sell a lot better than expected, outselling Syndicate by a significant margin. However, it appears as if Odyssey is doing better than Origins and its two predecessors.
IGN does bring up a good point about eighth gen sales, though, noting that Black Flag is still one of Ubisoft's all-time best selling games. So where exactly does it fit into the line-up given that it's also a cross-generational release? Technically, Ubisoft could be referring only to eighth-gen exclusive releases, in which case it's quite obvious that Odyssey is the top of the crop. But compared to other highly popular releases such as Assassin's Creed II, Assassin's Creed III, and Assassin's Creed IV: Black Flag, it seems like Odyssey is still a far cry away from topping those launch sales at this time.
We won't know how well the series will do next year because Ubisoft will be taking a break in 2019 and sticking with Odyssey for now. I imagine the company will have a line-up of post-launch DLC expansion packs for gamers to play in order to keep them busy.
So far the reviews for Odyssey have been mostly positive, with many reviewers enjoying the large open environments and expansive role-playing mechanics. The return of naval combat was also welcomed, along with the wide range of weapons. Also, this was one of the few times where the game didn't launch with any major bugs or glitches controversies to bog down the discussion surrounding the game.
Your Daily Blend of Entertainment News
Staff Writer at CinemaBlend.