Assassin's Creed Syndicate Has Two Day One Patches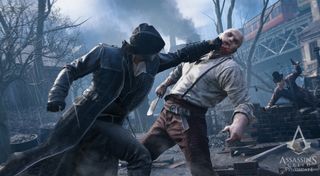 Word has been spreading around that Assassin's Creed Syndicate has a massive day one patch. Turns out that the game has two day one patches... except, they aren't that massive at all. In fact, both patches combined are just barely over 1GB.
In an age where day one patches and day one DLC are commonplace, discussion started up over on Reddit about just how big the day one patches will be for Ubisoft's upcoming Assassin's Creed Syndicate. Rumors were about to begin spreading that the patches clocked in at 18GB, which is big enough to be two separate, fully featured games.
However, Videogamer.com spotted a response from Ubisoft Montreal's community developer Gabe Graziani in the Reddit thread, where he corrected the course of the discussion and put it back on track by stating...
There have been some games with absolutely massive day one patches. Some of you might remember that last year Halo: The Master Chief Collection had a 20GB day one patch, which was big enough to stave off a lot of day-one buyers from getting in on the game as they had to wait for the game to install and then wait some more as the day one patch installed itself so that multiplayer could be enabled. What was so bad about that day one patch was that it didn't even fix the multiplayer networking issues that plagued Halo: The Master Chief Collection, which prevented a lot of gamers from enjoying the game's online portion.
Day one patches are never a good sign no matter how you cut the custard, but the smaller the patch the better. It means that there aren't entire swathes of the game broken or a smorgasbord of bugs that needed squashing following the game going gold.
In this case Assassin's Creed Syndicate has two patches that are both under 600MB, which is excellent. Even on rather slow ISP broadband connections, gamers won't have to wait for too long to start playing Ubisoft's latest title. Basically the day one patch will take about as long to download as the standard HD movie being streamed over Netflix. So whatever your wait time is for an hour and a half long movie that will be your wait time for Assassin's Creed Syndicate's day one patches.
According to the Videogamer.com article, the game will be about 40GB on the Xbox One and 43GB on the PlayStation 4. The game is one of the big holiday releases this fall season, where it will be followed by other big AAA titles like Halo 5, Call of Duty: Black Ops 3 and Fallout 4.
You can look for the game to have its initial release starting October 23rd for the Xbox One and PS4, with a November release for PC.
Staff Writer at CinemaBlend.
Your Daily Blend of Entertainment News
Thank you for signing up to CinemaBlend. You will receive a verification email shortly.
There was a problem. Please refresh the page and try again.