Xbox Game Pass Adds Five New Titles In November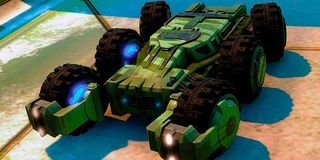 The Xbox Game Pass roster is about to expand, with five new titles coming to Microsoft's game subscription service in early November. These include Grip: Combat Racing, Sniper Elite 4, Rise and Shine, Sheltered and Olli Olli 2 XL.
The Xbox Game Pass subscription program is becoming more and more appealing, with more than 100 games already available through the service. Microsoft has been including its own first-party games the day they launch for purchase and, come November, that day-and-date launch offering will extend to a third party publisher.
On Nov. 6, Grip: Combat Racing, which is already available on PC, will launch on the Xbox One, as well as the PlayStation 4 and Nintendo Switch. It gets a leg up on the Xbox One, though, because it will be included at no extra charge as part of the Game Pass service. For those unfamiliar with Game Pass, you fork over 10 bucks a month in order to download and play as many games as you can manage to squeeze in. Microsoft is constantly rotating new titles in, too, coupling older hits like Dead Island and Resident Evil 6 with their own first party titles like Gears of War 4 and Sea of Thieves.
As noted above, Xbox One exclusive games from Microsoft launch on the service the same day they become available at retail, including the recently released king of the driving hill, Forza Horizon 4. I'm not sure how the financials work out but, as a consumer, it's not hard to see why that kind of subscription service would be so appealing.
But again, Grip isn't the only new game launching on Game Pass next month. As of Nov. 1, four more games are also getting added to the lineup. Sniper Elite 4 is a pretty big get, allowing subscribers to experience the latest from the World War II combat series that offers plenty of exploration, stealth and extremely brutal sniping.
Olli Olli 2 XL also makes the cut, allowing up to four players to take part in a colorful and incredibly addictive platforming competition that tasks players with stringing together the most insane combo across an entire level.
Sheltered, on the other hand, is a resource management and simulation game set during the apocalypse. Not wholly unlike Fallout Shelter, this game has you building and maintaining an underground bunker in order to keep your family alive while facing scarce resources, scavengers and the like.
Finally, there's Rise and Shine, a pretty sweet shooter/platformer with attitude that sees you exploring a hand-drawn world in order to blast alien invaders and protect a citizenry of classic video game characters.
That's a great way to start November and, according to the announcement, there's still more to come. During Inside Xbox at XO18 on Nov. 10, additional games heading to Xbox Game Pass will be announced.
Your Daily Blend of Entertainment News
Staff Writer for CinemaBlend.