Fortnite's New Tender Defender Skin Is Based On An 8-Year-Old Fan's Artwork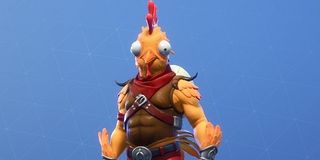 An 8-year-old Fortnite fan recently posted concept art for a Chicken Trooper skin he wanted to see added to the game, and now Epic is making that happen. If you needed something wholesome to dispel your fowl mood, this story should do an eggcellent job.
Back in September, a Redditor posted an image of the Chicken Trooper, a skin his son designed for Fortnite. The image included a look at the feathered hero, as well as an idea for additional items like Back Bling taking the form of an order of chicken nuggets, as well as a pickaxe that looks like a couple of chicken strips. Along with the image was a letter from the boy, Connor, asking Epic to add the Chicken Trooper to the game.
The adorable image went on to garner more than 40,000 upvotes and plenty of additional love from the community. Several folks even offered their own take on the character, including a "Tender Defender" that helped make clear what the character might actually look like if it were to be included in Fortnite. Connor was apparently ecstatic with how well his creation was received, but it looks like he'll have even more to be excited about in the not-too-distant future.
Epic is really good about updating the game world to tease things that are going to eventually be added to Fortnite, which is why fans got super excited when they noticed a shack in Lonely Lodge appeared to have a new resident. The shack now boasts a sleeping bag covered in feathers, a couple of drumsticks and even a police scanner.
That got the usual batch of dataminers rolling and digging into Patch v6.30, they discovered a skin that looks just like the design and is even called the Tender Defender. Folks apparently reached out to the creator of that particular incarnation of the design and he confirmed that Epic reached out for approval to include it in the game.
Now Epic has revealed a new Fowl Play content update and, yep, the Tender Defender is the big draw. He's a googly-eyed chicken and is complemented by a Flappy Flyer chicken glider, a cracked egg for back bling and a Scrambler pickaxe, which is just a massive whisk. The skin and Back Bling will set you back 1,500 V-bucks, and I figure it will go on to be a favorite of Connor and many other players.
Stories like this are exactly why Fortnite continues to resonate with its audience. Enough people were interested in making an 8-year-old kids dream a reality, so Epic decided to do exactly that. Connor's dad has apparently been keeping all of this a secret until the news was made official, so here's hoping he has a camera rolling when the kid first boots up the game and sees his Chicken Trooper has actually made its way to the battlefields of Fortnite.
Staff Writer for CinemaBlend.
Your Daily Blend of Entertainment News
Thank you for signing up to CinemaBlend. You will receive a verification email shortly.
There was a problem. Please refresh the page and try again.