Treyarch Addresses Blackout Crashes On Xbox One X Consoles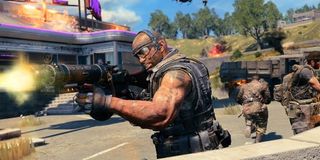 For folks wanting to play Call of Duty: Black Ops 4's new Blackout mode on the Xbox One X, the holiday season has turned into a real letdown. Treyarch has acknowledged an issue where the battle royale game mode freezes on that specific console and, based on a recent tweet, they're working on a fix.
This situation is exactly why it can be risky to launch a new update around an extended holiday. For starters, developers are likely working on a skeleton crew for a couple of weeks, if anyone is scheduled to be in the office at all. Secondly, with loads of people getting games and consoles as holiday gifts, you'd hate to ruin their first experience with your mega-hit shooter thanks to a nasty bug like the one being reported by many Xbox One X players.
But that's exactly what's happening in Black Ops 4, but only if you're gaming on a specific Xbox console. Back in mid-December, Treyarch launched a new update for Black Ops 4 called Absolute Zero. It included a new operative for multiplayer modes, seasonal skins and emotes, new gear to earn, and an update to the popular Blackout map that introduced a cruise boat to the battle royale affair.
It was around that time that players on the Xbox One X started noticing a pretty serious issue. The following tweet from user Squoze729 does a good job of summing up the frustration many players are feeling at the moment.
Again, Blackout is a battle royale mode, so its matches can last quite a bit longer than your average multiplayer romp. Dozens of players get dropped onto a map with absolutely no gear to speak of, then spend the first phase of the round grabbing as much gear as they can get their hands on. It's kind of like a violent Easter egg hunt, with players running from location to location hoping to find helpful Perks, decent armor, a couple of guns they like, some attachments and ammo. From there, you move closer and closer to victory, taking out your fellow players and grabbing better gear as you discover it.
Now imagine being 20 minutes into that process and, multiple times a day, the game just straight-up freezes on you. Based on the oodles of tweets on the matter, the "sweet spot" for the crash seems to be when there are between 30-15 players left on the map, which can be pretty-dang late into a round of Blackout. Some folks are saying they were in as low a position as the top five when their game froze, which has got to be extremely annoying for this type of mode, where players invest a decent chunk of time and there can only be one winner.
It took Treyarch a bit longer than expected to actually acknowledge the problem and state they are working on a fix, so hopefully you Call of Duty fans on the One X won't have to wait much longer to enjoy the mode alongside all the other platforms.
Staff Writer for CinemaBlend.
Your Daily Blend of Entertainment News
Thank you for signing up to CinemaBlend. You will receive a verification email shortly.
There was a problem. Please refresh the page and try again.