Rocket League Is Getting An Xbox One X Upgrade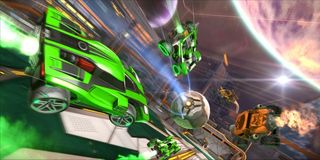 (Image credit: Psyonix)
Psyonix managed to hit the jackpot with Rocket League when the game initially came out for PS4 back in the summer of 2015 to wide acclaim and millions of downloads. Over the years, the developers have been refining and upgrading the experience across each platform it has released on, and now it's time for Xbox One X owners to get their long awaited upgrade.
Over on the official Rocket League website, it was announced that the update for Xbox One X support will go live next month, December 3 at 10:00am PST, to be exact. The update will enable gamers to play Rocket League in native 4K resolution at 60 frames per second with full HDR support. You will, of course, need a 4K television to play the game at 4K UHD, but it will be native not upscaled.
The big difference between upscaled and native resolutions is that a native resolution means that the game is running internally at 4K and outputting on the display at 4K. Upscaled resolutions mean that the game is typically running at 1440p or 1800p internally and then upscaled through a 4K television or monitor. It means that you're not seeing a native 4K resolution when the media is being upscaled, which is typically how a lot of games make use of the Xbox One X's 4K capabilities. This is also due to the fact that native 4K requires a ton of processing power, and even the Xbox One X has trouble running games like Red Dead Redemption 2 or Star Wars: Battlefront 2 at native 4K.
However, Psyonix made sure to optimize Rocket League so that it could get the most out of Microsoft's console and run the game both at native UHD resolutions and at 60 frames per second, which is a rare feat for a lot of games, and only a few studios have achieved those specs for a game on a home console. In fact, many PS4 Pro games also fail to hit the UHD standard and oftentimes settle for either 1440p or 1800p. So Pysonix should be proud of that feat.
However, if you don't have a 4K UHD enabled TV, you can still make use of the Xbox One X features even on a 1080p HDTV thanks to the Xbox One X's ability to utilize supersampling for 1080p display devices. This was all part of Microsoft's bid to capture the upper echelons of the high-end definition market when the Xbox One X launched last year.
The December update for Rocket League isn't just about paying some worthwhile lip service to Xbox fans, though. The update will also include all new leaderboards for the ranked extra modes, along with an overhaul to the XP progression system that includes all-new weekly win bonuses for those of you who can pull out the clutch wins multiple times each week. There's an all-new episode called "Rocket League x Monster Cat Vol. 5," and the new community flags for Extra Life, Speedy and another mystery flag that will be announced at a later date.
The big news for now is that Xbox One X owners will be getting a little bit of love and service from Psyonix for Rocket League. This means that not only will you be able to play the game and have fun, but also have the game look on par to what would usually cost you $1,500 or more if you wanted it to look that way on PC, for the price of just $500.
The Xbox One X enhancements will arrive with the other features starting December 3.
Your Daily Blend of Entertainment News
Staff Writer at CinemaBlend.