25 Wii U Games Leaked By Retailer?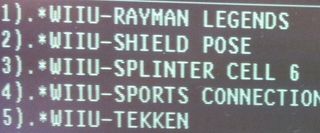 A total of 25 Wii U games have appeared in an internal release database of Blockbuster UK. Although some of these titles consist of announced games pertaining to the console, a few unannounced titles are also outed.
GoNintendo received an image of the rental company's release database, which shows the following Wii U games:
Aliens: Colonial Marines
Assassin's Creed
Batman: Arkham City
Darksiders II
Dirt 3
Formula 1 All Stars
Game Party
Ghost Recon Online
Just Dance 4
Killer Freaks from Outer Space
Marvel Super Heroes
Metro: Last Light
Monsters Party
New Super Mario Brothers Wii
Ninja Gaiden 3
Pikmin
Rabbids Party Land
Raving Rabbids
Rayman Legends
Shield Pose
Splinter Cell 5
Sports Connection
Tekken
Your Shape 2013
Zombie
Of course, this is a rumor at the moment but it does hold some credence when analyzing some of the included titles. Rayman Legends, for one, was recently confirmed for the Wii U via a gameplay leak. Batman: Arkham City, another game outed on the list, is also due to release on the console.
Nintendo will reveal hardware details of the Wii U during this year's E3, but the unveiling of launch details such as the console's price will have to wait. Details which may very well be revealed at the expo, however, have already been leaked.