3DS Sells Four Million Units, Skyward Sword Sells One Million Copies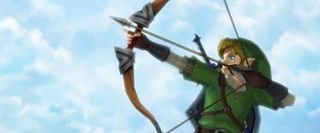 With 2011 officially over, Nintendo has announced some hardware and software sales numbers. For starters, their new 3DS handheld has now sold four million units since its debut in February of last year.
Nintendo sold 12 million hardware units in total in 2011. This is the fifth year in a row that they've done so. The Wii sold over 4.5 million units while the older DS models sold 3.4 million. The worldwide install base for the Wii and DS is now 39 and 51 million, respectively.
On the software side, first-party 3DS titles Super Mario 3D Land and Mario Kart 7 both sold well during the holiday season. They're the fastest-selling titles in their respective sub-franchises and the first 3DS titles to sell a million copies in the United States. The Legend of Zelda: Skyward Sword became the 45th Wii game to sell over a million copies in the US.
"One of the strongest software lineups in our history helped Nintendo have a great holiday season and to close 2011 with a full head of steam," said Scott Moffitt, Nintendo of America's executive vice president of Sales & Marketing. "Not only have the new Mario and Zelda titles already broken records, but with strong reviews and satisfied customers sharing their positive experiences, all three are also shaping up to be the latest long-tail titles from Nintendo. Couple that with a massive first- and third party lineup in the first part of the year and the prospects for 2012 are extremely promising."
The first quarter of 2012 will see the release of Kid Icarus: Uprising, Resident Evil Revelations and METAL GEAR SOLID 3D Snake Eater on the 3DS. The Wii will receive Mario Party 9 and PokéPark 2: Wonders Beyond in the coming months.
Staff Writer at CinemaBlend.
Your Daily Blend of Entertainment News
Thank you for signing up to CinemaBlend. You will receive a verification email shortly.
There was a problem. Please refresh the page and try again.