3DS Update Adds Save Back-ups, New Mii Plaza Games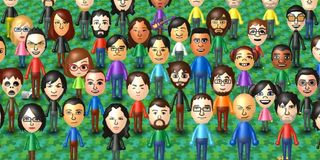 Tired of playing those same old Mii Plaza games on your 3DS? Wish there was a better way to back up your game saves so you could easily make room for new games without losing your progress? Well, the latest 3DS system update has you covered on at least one of those counts with the other being taken care of sometime down the road.
The Nintendo 3DS offered up a new system update this week, allowing gamers in the U.S. to back up their game saves to the SD card at the tap of a button. This is especially handy since, before now, the process was quite a bit more complex and required the use of a computer.
In the past, deleting a game to make room for new titles on your memory card meant you would also be deleting said game's save file. That's a real bummer if there's a chance you'll want to re-download said game somewhere down the line. Now players can click on (almost) any software loaded on the system and back up their saves in one easy step. Sadly, Animal Crossing: New Leaf is one of the only games that does not support this feature. Then again, the way I've been addicted to that game, I'm not sure I'll ever want to take it off of my memory card in the first place.
Over in Europe and Japan, this latest update also offered some new Mii Plaza options, which we're expecting to see added in the States sometime in the near future. Those improvements include the ability to change your Mii's expression when you meet a new player through StreetPass, as well as four new (purchasable) games to play with those people you virtually meet through Nintendo's portable console. These games include side-scrolling shooter Street Pass Squad, gardening simulator StreetPass Garden, strategy war game StreetPass Battle and world-building game StreetPass Mansion.
Look for those games soon and start backing up your save files now simply by downloading the free update. You can also check out a new video detailing the 3DS update below.
Image 1 of 3
Image 2 of 3
Image 3 of 3
Staff Writer for CinemaBlend.
Your Daily Blend of Entertainment News
Thank you for signing up to CinemaBlend. You will receive a verification email shortly.
There was a problem. Please refresh the page and try again.