75 Percent Of Russian Gamers Get Their Games Illegally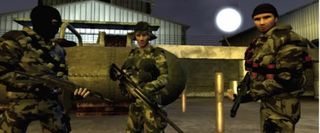 While the number of illegal downloads from Russian gamers would send most publishers in a frenzy, making all sorts of ridiculous claims to interviewers on sites like Industry Gamers or Next-Gen.biz, the truth of the matter is that despite the high torrenting of illegal PC and console games in Russia, Russian gamers actually put more money into the market than what they steal. Fascinating, eh?
In a study by research and analytical group, NewZoo, it showed that 75% of Russian gamers obtain their games illegally for PC and console. The startling news, however, is that Russian gamers actually contribute more than $1.5 billion in annual sales to PC, consoles and mobile gaming.
According to the study, more than 56% of the sales for all interactive gaming software in Russian is composed of PC and MMO games. More than $570 million is accumulated from PC sales only, and more than $270 million comes from digital downloading. So much so that Valve has even converted Steam currency into Rubles to help make it easier for Russian consumers to purchase games digitally from the Steam distribution service.
What's more is that console gaming actually trails PC gaming in Russia, with only $225 million in annual sales. It's interesting because over here in the States there's a much larger focus on tailor-made console games, despite the popularity of the PC gaming community.
Peter Warman, CEO and co-founder of Newzoo, commented about the data, saying…
His sentiment about "many Russians spend nothing while a very significant group spends an an enormous budget" doesn't sound very far off from most UK and US gamers' spending habits. I guess we're all a lot more alike than we thought.
According to the data, out of the 43 million or so Russian internet users, approximately 83% of that population actually plays video games and more than 53% of that 83% actually spends money on the games they play. Shocking, right?
Anyways, we hear a lot about publishers QQ'ing over digital thievery breaking into their sales and hurting their profit margins, but the real tell is that gamers the world around are actually spending more money despite piracy being at an all time high. And let's be honest, piracy is at an all time high because gaming is at an all time high and the more people gaming the more likely there will be pirates.
You can check out the full details of the research by visiting the Official NewZoo Website.
Staff Writer at CinemaBlend.
Your Daily Blend of Entertainment News
Thank you for signing up to CinemaBlend. You will receive a verification email shortly.
There was a problem. Please refresh the page and try again.