9 Things We Want To Do With Virtual Reality Besides Gaming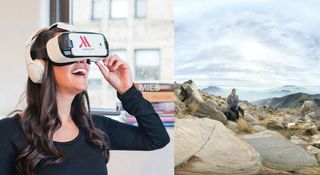 With a rise in the popularity of VR gaming, all eyes are on the market of virtual reality. Just today, Discovery and HBO announced they were investing in virtual reality, so one can hope that means more of Discovery's VR videos and a virtual Westeros? While movies and tv is still trying to jumpstart VR, gaming has gotten a pretty good handle on it. But what else will virtual reality affect? We've got quite a list of things in everyday life that will more than likely become a virtual reality experience in the future.
1. Dating And Mingling
Many have stated that in today's tech-savvy digital age, the new going out is staying in, because you have everything you need at your fingertips. And with dating moving to mobile platforms on apps like Tinder, all it takes is a few swipes and some texts to set up a date night or get to know a stranger. With the ease of dating dumbed down to a single swipe of the finger, what if the entirety of dating could be done through a virtual reality headset? Rather than watch text line after text line in a chat room, it would probably make much more sense to meet in a virtual bar where a ton of virtual people are mingling. You'd never have to leave your house to meet a blind date; instead, you'd do it all from the comfort of your living room—in your pajamas with messy hair and no shower. With how popular Tinder has become, I wouldn't be surprised if a dating app for a VR headset skyrocketed in popularity just the same. The future of dating will get lazier, it's inevitable.
2. Shopping/Real Estate
Online shopping has me gripped by the throat on many days when I know I shouldn't be spending money. But it's so easy to find what I need and click to have it paid and sent. Amazon even has a 1-click ordering system, which is so bad for those with shopping addictions. But just imagine how easy it would be to immerse yourself into an interactive, virtual reality interface of Amazon where you can view an item (turn it around, inspect it) before purchasing. Aside from shopping, what about shopping around for a house or apartment? Nowadays, many housing websites will include virtual tours that offer 360-degree access to a model home or apartment. So it's very understandable to believe this could soon turn into a virtual reality tour complete with a VR headset. Matter-of-fact, this is probably the best use for virtual reality in the real world, if you know how annoying it is to not see the entire living space of a home or apartment in the pictures.
Image courtesy of The Fix
3. Ordering Food
I've been to a couple restaurants already that have an iPad at each table where each group of people orders what they want through the iPad. Microsoft also added a Domino's Pizza app that lets users order pizza straight through their console, so who's to say you won't be able to do the same through a VR headset? Ordering your food in virtual reality makes the customer experience that much more entertaining and could provide unique means of advertising for restaurants. For a VR-obsessed society, it'd be a different kind of approach to marketing to that audience.
Image courtesy of Road To VR
4. Concerts
We've already seen Michael Jackson as a hologram during a live concert, so it's very easy to believe attending a concert via virtual reality could also be a thing. Recently, Facebook has incorporated live videos for its users to take advantage of and I've seen celebrities and brands utilizing this tactic to interact with their audience. While the speaker won't be breaking your eardrum while standing at a VR concert, you'll still be able to experience the event without ever leaving your house. And that means not worrying about having to pay $15-$20 extra for parking.
Image courtesy of 3D VR Central
5. School
School, as I have always understood, is a very important part of socialization for a kid. But when you're in college or wanting to take a class on pottery, why can't there be an option to do so by virtual reality? Online degrees offer course lectures by means of videos and chat, but I don't see a problem with dropping into a lecture via virtual reality. It's probably more immersive than just watching a video on your monitor and there's a possibility you might be able to partake in class activities or contribute to the discussion via voice.
Image courtesy of Spring Wise
6. Travel
This is by far the best way to use virtual reality in the real world. It could single-handedly dent the flight business by eliminating the need to travel the world to see the sights. Virtual reality could allow the sights to come to you in your own home. If you've ever wanted to see the Eiffel Tower up close, virtual reality could easily give you this access. If Google Maps can show us streets all around the world, why can't it happen for virtual reality? There would be no need to worry about long flights or jet lag or pricey trips. It'd all be right there in your headset waiting.
Image courtesy of Road To VR
7. Trip Planning
I've already mentioned the magnificent Google Maps making it easy for those to get a sense of an area before ever having to leave the house. But virtual reality could make this experience that much better. For example, if you're getting ready to move to a different city across the country and want to check out an area around an apartment you're zeroing in on, the virtual reality Google Maps could allow you to walk around the area without having to spend money on the costly trip.
8. Haunted House Experience
There has already been structures built specifically for crafting a real-life virtual reality experience like the virtual reality theme park called The Void, located in Salt Lake City. And if I can be honest here, I went to Universal Studios' Halloween Horror Nights last year and was definitely not scared. I went into The Walking Dead maze hoping to be terrified but it was very mild. Maybe it's time for virtual reality to hype things up and make things a bit more extravagant. I can definitely get on board with a virtual reality haunted house, because the options there are endless.
9. Working From Home
And finally, virtual reality could make working from home more of a common notion than it already is. Need to participate in an important meeting with your bosses? Slap on the headset and listen in or participate. Virtual reality is taking over the technological world right now and people can't seem to get enough of its advancements. It's slowly leaking into other parts of our everyday life, from video games to lifestyle activities like porn and now movies and TV. It's only a matter of time before it starts to envelop our lives just as smartphones and tablets have.
Your Daily Blend of Entertainment News
Thank you for signing up to CinemaBlend. You will receive a verification email shortly.
There was a problem. Please refresh the page and try again.