How The Walk Virtual Reality Brings One Of The Year's Most Exciting Scenes To Life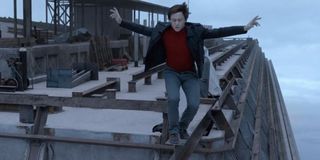 In 1974, French acrobat Philippe Petit did something truly astonishing, and practically superhuman. He strung a high wire between the North and South towers of the World Trade Center, and had the courage to actually walk across it from end to end. It's a feat that few people who have ever lived would have had the bravery to do, and I know for a fact that I'm not one of those people. I can say this will complete certainty, because I recently got a taste of the real deal in virtual reality form!
In promotion of director Robert Zemeckis'The Walk - which brings the story of the famed 1974 high wire act to theaters around the world – Sony and IMAX recently teamed up to create a "Can You Walk The Walk" virtual reality experience. While it was recently making a stop in Los Angeles, I got the chance to personally give it a shot. Utilizing Sony's Project Morpheus system, the tech transported me to the top of the Twin Towers, where I was given the chance to walk out on Philippe Petit's wire. In reality I only walked about five feet along what looked like a strip of cord cover, but that wasn't the experience I was going through inside my head.
After putting on the virtual reality headset, I was rocketed up the side of the South tower to the corner where Philippe Petit hitched his long metal cable. As a monologue from the film played in my ears – Joseph Gordon-Levitt's version of Petit discussing the beauty that surrounded me – I looked around the environment and immediately felt my legs start to quake. What I was looking out at most certainly looked like 1974 New York from my perspective, and my senses were telling my body that I might as well have been on the top of the actual building. My feet were planted on solid ground, and yet a part of me still felt that sending waves of acrophobia through my nervous system was totally justified.
Then came the actual walking part… which means that I've come to the point where I tell you that I tell you that I'm not overly ashamed by my unbalanced performance. The plastic strip I was stepping on was only about an inch thick at best, but the reality is that I probably would have had equal the trouble with something three times the width. After taking about two steps out on "the wire," I found myself dipping to the right – probably would have fallen flat on my face had it not been for the spotter by my side (though I must admit that I was curious what would have happened if I did fall entirely off my balance beam). After numerous readjustments getting back to balance, and even more dips off, I felt like I had walked a good 20 feet out – when in reality it was more like a quarter of that distance. I turned around, walked the wire as best I could back to the building, and managed to do it without making a public spectacle/ass out of myself. Mission accomplished.
It doesn't really take a virtual reality program to help someone appreciate what Philippe Petit was able to accomplish - as any of us can really do a solid job imagining how they would act trying to replicate the feat – but the first-hand experience of The Walk was truly dizzying and a wonderful way to pull me even deeper into the experience.
For a chance to give it a whirl for yourself, check the worldwide schedule below to see if it will be coming to an area near you:
The Walk opens in IMAX theaters nationwide this weekend, and will expand nationwide October 9th.
Your Daily Blend of Entertainment News
Assistant Managing Editor
NJ native who calls LA home and lives in a Dreamatorium. A decade-plus CinemaBlend veteran who is endlessly enthusiastic about the career he's dreamt of since seventh grade.