Ace Combat: Assault Horizon Coming To Steam In 2013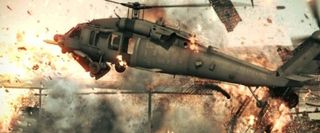 Namco Bandai is bringing Ace Combat: Assault Horizon to PC in early 2013. The game is also being made available for digital download for the Xbox 360 and PS3 starting in mid-December. The game was basically hailed as the aerial rendition of Activision's Call of Duty.
As stated in the press release...
The game itself received generally warm review receptions from most publications, with the game's story-driven campaign sitting at the heart of the game as a thrilling global affair that saw players engaged in all sorts of dynamic missions within intense and action-packed scenarios.
The game was further complimented with an equally bombastic multiplayer campaign. All the thick-brow action from both the single and multiplayer will even carry over into the PC version. The only downside is that they're using Game for Windows Live. So yeah, more piracy encouragement right there.
The enhanced edition of Ace Combat: Assault Horizon is set for release in the first quarter of 2013 for $34.99. The digital renditions of Assault Horizon for Xbox 360 and PS3 will be made available for $19.99.
Your Daily Blend of Entertainment News
Staff Writer at CinemaBlend.