Akiba's Trip Hits PS3, Vita Next Month, PS4 This Holiday Season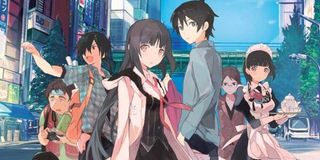 Akiba's Trip: Undead and Undressed will be making its way to the PlayStation 3 and PlayStation Vita Stateside next month but, as of today, the team at XSEED Games has announced that the PlayStation 4 version will also be arriving this holiday season. So, no matter what PlayStation console you prefer to call home, you'll be able to strip vampires down to their undies in this bizarre, open world combat adventure game.
Okay, so, here's the deal with Akiba's Trip. You play as a guy who has been attacked by a sort of vampire creature, but you haven't completely succumbed to their powers. As such, you can locate and battle other victims of the creatures, and the only way to flush the evil from their system is to expose them to the sun. To do that, you're going to have to beat the stuffing out of them with anything you can get your hands on, be it baseball bats and pipes or glow sticks and a computer keyboard.
Once you've weakened them up, you can attempt to strip them of their clothing, thus eradicating the vampiric threat from their system. Do well enough and you might even be able to chain strips together, undressing an army of enemies in one go.
It sounds insane (because it is), but my hands-on time with the game at E3 left me convinced that this is going to be one of those oddball games totally worth checking out. I was playing the Vita version of the game, which launches side by side with the PlayStation 3 version on Aug. 12. XSEED Games today announced that the PS4 version of the game will also be launching in the US sometime this holiday season. If you own a PS4, you can actually search for Akiba's Trip in the Live From PlayStation app and watch your Japanese brethren playing the game. Otherwise, here's a trailer showing off just how street-rat crazy this game can get. You must be 18 or older to view, because we don't want any of you young'uns accidentally seeing underwear.
Fans of Japanese culture will be excited to know that the "Electric Town" featured in the game is a painstakingly accurate recreation of the streets and structures of the actual Akihabra district, better known as Akiba. Now the game's clever title is making more sense, aye? You'll explore every nook and cranny of the area, visiting shops, updating your stats and gear, chatting up locals, making new allies and, yes, ripping the clothes off of countless vampires.
"Players must identify which of the outwardly human men and women of Akiba are Synthisters (those vampire creatures I mentioned earlier) with the help of a handy in-game smartphone app, then free them of their clothes, exposing them to sunlight and sending them to the netherworld," reads the announcement from XSEED.
Bless you, Japan, and don't you ever change.
Staff Writer for CinemaBlend.
Your Daily Blend of Entertainment News
Thank you for signing up to CinemaBlend. You will receive a verification email shortly.
There was a problem. Please refresh the page and try again.