Army Of Two Weapon Design Contest For Xbox 360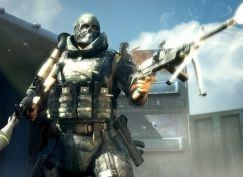 Some news is better late than never, right? Right. In this case many of you are probably well aware of the gun designing contest, which has already spread across the likes of Digg and N4G. But if you haven't picked up your Crayola crayon and started doodling out your dream-gun, you better start now.
EA is currently hosting a (to paraphrase the official name) "Design your own dream gun" contest. The contest will run up until June 15th and the winner will have their weapon featured in a special pre-order rendition of the Xbox 360 version of Army of Two. Yet again, PS3 gamers are inexcusably pwned. And this time, it's not our fault.
To enter the contest all you have to do is send in an image of your own customized weapon and a brief description (i.e., how it fires, special attributes, etc.) For further rules and submissions guidelines, or just to simply submit your entry, you can visit the Official Army of Two Website. While you're there you can also check out screenshots and other available media of the game.
According to the press release, "Once gamers submit their designs, the images will be posted on the site for the community to vote on. Come June 16, the top weapons will be reviewed by the development team who will then pick two lucky designs to be created and included in the game."
Again, you can visit the Official Army of Two Website for further contest details and media information.
Your Daily Blend of Entertainment News
Staff Writer at CinemaBlend.