Assassin's Creed 3 Liberation Concept Art Explores New Orleans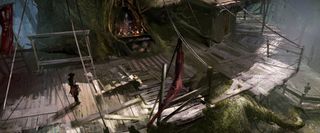 Assassin's Creed 3 Liberation might be using the same engine as Assassin's Creed 3 but the games will look radically different. New concept art from Liberation (via All Games Beta) show that its setting will be very easy to distinguish from Connor's stomping grounds in AC3.
Liberation takes place in and around the city of New Orleans. During the time period of the game, this former French colony was in possession of the Spanish Empire. The city and its inhabitants, therefore, have a much different appearance than the British colonies of AC3.
The wilderness surrounding New Orleans is also much different than say, the wilderness around Boston or New York. Instead of trudging through snow or climbing mountains, Liberation protagonist Aveline will be journeying through swamplands. As earlier screenshots revealed, she'll even travel to the jungles of Mexico.
Liberation is being developed exclusively for the PS Vita. It'll arrive in stores on the exact same day as AC3.
Image 1 of 7
Image 2 of 7
Image 3 of 7
Image 4 of 7
Image 5 of 7
Image 6 of 7
Image 7 of 7
Staff Writer at CinemaBlend.
Your Daily Blend of Entertainment News
Thank you for signing up to CinemaBlend. You will receive a verification email shortly.
There was a problem. Please refresh the page and try again.