Assassin's Creed 3 Sells 12 Million, Far Cry 3 Sells 4.5 Million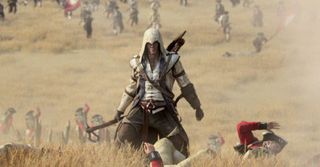 Today Ubisoft announced the sales figures for Q3 of their fiscal year. The company had a better-than-expected quarter due to the strong performance of core games like Assassin's Creed 3 and Far Cry 3.
AC3 has sold over 12 million copies to date. This is a 70% increase over Assassin's Creed Revelations, released a year earlier. It looks like the new Revolutionary War setting and protagonist attracted a lot of new players.
Far Cry 3, released in December 2012, exceeded Ubisoft's expectations. The game sold over 4.5 million copies. It was also the highest-rated Xbox 360 shooter in 2012, with a Metacritic rating of 2012. Ubisoft CEO Yves Guillemot described Far Cry as "one of the major pillars of our offering for core gamers," so it's safe to say we'll see Far Cry 4 soon enough.
The company also saw growth in their online gaming segment, thanks to hits like Rayman Jungle Run on iPhone and Trials Evolution on Xbox 360. Ubisoft's success in core and digital games managed to outweigh the losses in casual gaming. Just Dance 4 sold a hefty 8 million copies, but that was still a 16% decrease from Just Dance 3's performance. The Tyranny of King Washington DLC for Assassin's Creed 3 should be a big earner for them as well, if the sales for the base game are any indication.
Ubisoft's third-quarter results have caused them to revise their forecast for the year. They now expect sales to be between €1,240 million and €1,260 million, rather than the previously predicted range of €1,200 million and €1,260 million. Current operating income will be between €90 million and €100 million, instead of an income of between €70 million and €100 million.
For the fourth quarter of their fiscal year, Ubisoft has a few big digital releases up their sleeves. Trials Evolution Gold Edition will hit the PC in March. Free-to-play Anno Online will enter open beta this quarter as well. iOS gamers, meanwhile, can look forward to Might & Magic Clash of Heroes.
Staff Writer at CinemaBlend.
Your Daily Blend of Entertainment News
Thank you for signing up to CinemaBlend. You will receive a verification email shortly.
There was a problem. Please refresh the page and try again.