Assassin's Creed Concept Art Showcases Female Protagonist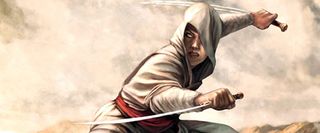 Ubisoft has revealed (opens in new tab) a batch of early concept artwork for the original Assassin's Creed, showcasing the female protagonist who was in contention of being included in the IP.
Ubisoft contemplated a female hero for Assassin's Creed 3 (opens in new tab), but said it wasn't a viable option. They felt it didn't fit the setting.
"It's always up in the air," creative director Alex Hutchinson said in an interview. "I think lots of people want [a female protagonist], [but] in this period it's been a bit of a pain. The history of the American Revolution is the history of men."
The artworks were created by Khai Nguyen, with his work confirming that in addition to a female assassin, co-op gameplay was considered. A sketch of an assassin protecting a child is also shown, which ranges back to the Ubisoft-developed franchise's roots as a possible Prince of Persia spin off. Additionally, the first appearance of the hidden blade is displayed.
Assassin's Creed III, the next installment in the IP which came into fruition in 2006, is due for a release on the PlayStation 3 and Xbox 360 (including the Wii U, but the version has yet to be dated) on October 30th 2012 in the US and 31st in Europe. A PC version remains undated.
Your Daily Blend of Entertainment News
Thank you for signing up to CinemaBlend. You will receive a verification email shortly.
There was a problem. Please refresh the page and try again.