Assassin's Creed Syndicate Has World War I Missions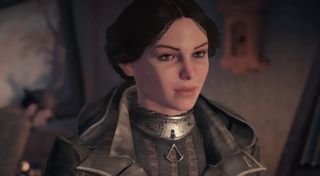 That age old question of whether or not Ubisoft can retain some sense of wonder and intrigue in an Assassin's Creed game without spilling all the beans in a massive promo campaign leading up to release, has been answered. Yes, they can keep a secret.
Eurogamer decided to expose Ubisoft's little secret for this year's outing: a completely not-talked about series of missions set in World War I. Obviously there are spoilers below.
Players will take on the role of Lydie Frye, the granddaughter of Jacob Frye. She has access to her great aunt and grandfather's skillsets once players get a hold of her, so she can kill pretty easily right when you start playing her.
According to Eurogamer, you can access the World War I missions in Assassin's Creed Syndicate as early as 10 hours into the game (depending on how good you are). It took them about 15 hours but in doing so there was a section on the far east side of the map where a time rift will open up and when stepping through it players will be transported to the near future where they'll play Lydia for a couple of missions. You can see what the gameplay is like with the Eurogamer video below to see how Lydia looks in action and what a World War I era London looks like.
Interestingly enough Lydia gets to complete a couple of missions from Winston Churchill to help the British Secret Service. Many of the missions supposedly take place in and around the bridge area over the Thames river.
With the reviews already piling in for the game and a lot of people anxiously talking about the big AAA release from Ubisoft, here's a little secret that may add some life to the game that most people may not expected to be there.
According to Eurogamer they definitely like Assassin's Creed Syndicate more than they liked Assassin's Creed Unity. It probably wasn't hard to come to that conclusion given that the latter launched pretty broken and it's hard to fall any lower than Unity when the game required about five months of patches to get it up to par. At least with Assassin's Creed Syndicate the game appears to work right out of the box... for the most part.
Of course, it's pretty sad these days that in a Pros/Cons list, a Pro is that a big-budget, AAA game actually works right out of the box. I always figured that should be the standard?
Anyway, Assassin's Creed Syndicate is available right now for the Xbox One, PS4 and PC. Eurogamer letting the secret out of the bag about the World War I segment might sour the experience for some but it also might compel others to give the game a look-see.
Staff Writer at CinemaBlend.
Your Daily Blend of Entertainment News
Thank you for signing up to CinemaBlend. You will receive a verification email shortly.
There was a problem. Please refresh the page and try again.