Assassin's Creed Syndicate Trailer Introduces Historical Figures You'll Meet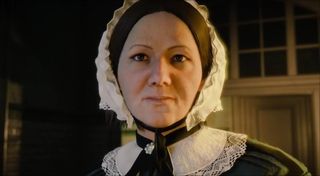 Ubisoft released a new trailer for Assassin's Creed Syndicate, showcasing some of the historical figures that you'll encounter in your journeys across the industrial age of London, England. The trailer is more informative than it is chock full of gameplay so get out your pens and pencils to take notes and learn a little history.
The video was recently posted up over on Ubisoft's YouTube channel, it clocks in at two and a half minutes and you can scope it out below.
There's actually a rather diverse cast of characters I didn't expect to see in the game that will make an appearance, including Scottish engineer Alexander Graham Bell, who was an early inventor of the telephone. As showcased in the video above Bell helps the twins with some neat little upgrades for their equipment, effectively working in the same capacity for Jacob and Evie as Leonardo Da Vinci did for Ezio in Assassin's Creed II and Brotherhood.
Another famed historical but controversial figure is Karl Marx, the progenitor of communist philosophies and the fighter for the proletariat. The depiction in Assassin's Creed is interesting and I'm sure it's bound to rouse some discussions 'round the dinner table for pure capitalists in the home.
Sticking to figures that have kept people discussing ideas and challenging their own beliefs is Charles Darwin, Mr. Evolution himself. He's more so there in Assassin's Creed Syndicate as someone who offers the twins missions and ideas but there's little in the way that I could see him working as a character that evolves their skillsets... although I could be wrong.
Novelist Charles Dickens also pops in for some missions that will likely involve Jacob and Evie having to take down some morally questionable characters, and likely help shape Dickens' appeal to writing about the disparity between the lower and upper class in England at the time.
Florence Nightingale, nursing extraordinaire will also make an appearance and obviously she plays a role in the game's story. I'm curious if her nursing skills will work to help increase the health of Jacob and Evie or if there will be story-oriented missions to whip up some health potions? Assassin's Creed usually relied on health tonics to keep the protagonists up and ready to fight, so it seems like a prime opportunity to take advantage of that in the game.
And finally there's Queen Victoria, representing her 64-year reign with grace. The interesting thing here is that I imagine Victoria will play a role as a background character to events happening around the dire straits of London. Then again Ubisoft could pull a fast one and have her play a pivotal role in all of the events taking place within the game, similar to the Catholic church's role in the earlier Assassin's Creed games.
You can look for Assassin's Creed Syndicate to go live for the Xbox One and PS4 starting this November, with the PC release set shortly thereafter.
Your Daily Blend of Entertainment News
Staff Writer at CinemaBlend.