Atari's E.T. Games Uncovered In New Mexico Dig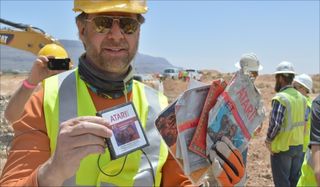 An urban legend has just been truthified. The long-rumored landfill of Atari's abysmal E.T. carts for the Atari 2600 console that helped lead toward the complete, crushing collapse of the home console entertainment arena in 1983 – known mostly as the "video game crash of '83" – has been uncovered.
Many sites are reporting that the dig – which originally ran into some trouble getting approved by the environmental board, as reported by CVG – has been rather successful.
Taking place in the Almagordo, New Mexico desert, the dig set out to uncover the truth of what happened to those 14 trucks containing unsold copies of E.T. Extraterrestrial: The Game. It was one of the many uber-terrible games made back in the day to cash-in on the budding console gaming industry, very similar to all the shovelware released on the Wii not too long ago. Of course, the plan-of-greed backfired, and the average consumer revolted by becoming disgusted with the crappy games; they stopped buying them, leading to a major crash in the industry.
It was said that Atari took those 14 trucks full of E.T. game carts and had them buried in a New Mexico desert. Well, it looks like that was true.
Sites have already started reporting on the find – not exactly releasing any hard numbers on how many copies were actually buried at the site – and it appears that it wasn't just E.T. out there. In an article by Ars Technica, a crushed copy of Centipede was discovered, too.
As noted in the article...
This is all part of an elaborate documentary funded by Fuel Entertainment and Xbox. The fact that they found something will go well with the documentary given that no one likes an unhappy ending. The documentary is expected to arrive later this year as part of the new-wave of digital media being made available on the Xbox platform(s).
However, it wasn't all daffodils and lollipops in the land of documentaries and buried carts. Previously, IGN was told by the director of the documentary, Zack Penn, that...
Well, it looks like they found both: the truth of what happened to those carts and the carts themselves, which could very well be classified as garbage... even before they were buried.
(Main image courtesy of Ars Technica)
Staff Writer at CinemaBlend.
Your Daily Blend of Entertainment News
Thank you for signing up to CinemaBlend. You will receive a verification email shortly.
There was a problem. Please refresh the page and try again.