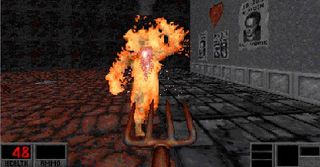 The planned remake of retro shooter Blood will not be happening after all. Monolith Productions founder Jace Hall revealed this week that Atari, the company that owns the rights to the game, has declined to continue the project.
"I just got an unusually short, one sentence e-mail from Atari, letting me know that given the current set of circumstances, they are choosing to decline to proceed," Hall said on the Blood fan forums Postmortem. He also expressed his disappointment at this turn of events, noting that Atari had offered him a lot of encouragement.
Hall announced his intentions to create a Blood remake this August. He said at the time he wanted to release the game on multiple platforms. The remake was going to incorporate several "dream" features requested by fans. Hall was going to pay for all the production expenses and release the game for free.
Blood was a PC shooter first released over 15 years ago. The game received a lot of attention due to its diverse selection of weapons, such as a napalm launcher and Tesla rifle, and wide range of monstrous enemies. The game supported co-op campaign play as well as team deathmatch. If you want to play the original version, note that it's available through GOG.
It's not clear how close the Blood remake was to completion. However, Hall said in his forum post that he mentioned that the amount of "time, effort and correspondence" he had put into the project made Atari's rejection particularly disappointing. He now has to play the waiting game.
"The only thing that can be done at this point is to wait and see what happens with ATARI, and hope that they find themselves in a position and mindset to allow my efforts to continue on this matter at a future date."
It's not clear why Atari put the brakes on the project. However, the fact that they recently filed for bankruptcy might be the main reason why they're not in a position to be giving anything away for free.
Your Daily Blend of Entertainment News
Staff Writer at CinemaBlend.