Backbreaker Update Adds New Features, Including Replay System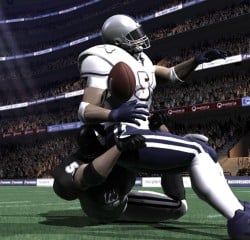 505 Games didn't just throw Backbreaker out there as a new IP to just rot. They announced that some new updates to the game's features are on the way, including new plays, a new replay system and improved camera angles for the QB.
Ant Lewis, Lead Designer, NaturalMotion Games dropped a few words about the upcoming update…
A complete list of the updates are listed below…featuring more in-your-face gridiron action that puts gamers so close to the game that you'll swear you can smell the stink on the players.
For more info on Backbreaker, which is currently available for the Xbox 360 and PS3, be sure to head on over to the Official Website.
Major features in Greathouse include:
• Brand new replay system with the addition of seven fully functional cameras, including free flight mode and a cinematic 'ball-lock' option.
• More than 100 new plays added, including an additional nine formations.
• Improved Quarterback camera view and passing game.
• A user-catch system, giving the player a much greater level of control over the on-field action.
• Interception control, the user is now given full control over interception attempts when controlling a defensive player.
• Comprehensive review of the penalty rulings following an analysis of reported errors.
Your Daily Blend of Entertainment News
Staff Writer at CinemaBlend.