Bastion's Only Physical Copy Sent To Soldier Overseas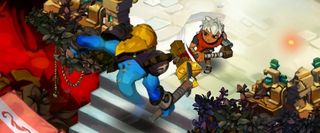 Bastion developer Supergiant Games doesn't plan to release boxed copies of their action RPG Bastion. However, they made an exception for a US airman deployed in Afghanistan.
The airman, who related his story on Reddit, tried to download the digital version of Bastion. However, the Internet connection at his base was too spotty to allow him to connect to Steam or Direct2Drive. So, he wrote an e-mail to Supergiant Games asking if they'd ever release a physical version of the game. He was soon contacted by writer/designer Greg Kasavin.
"He told me they had no plans on releasing a physical copy in the future, but if I gave him my address then he would see what he could do. A few weeks later I get a copy of the game and some Bastion swag. All he asks for in return is for me to get a copy on Steam when I come home."
Supergiant can certainly spare a copy or two for charity. They've sold over 500,000 copies of Bastion since its release last July. Still, even if burning a game to a DVD-R and mailing it overseas isn't all that expensive, there's a lot of companies who wouldn't put forth that kind of effort. This sort of customer service is rare in any industry.
Bastion is available on PC, Xbox Live Arcade, and the Google Chrome Web Store.
Your Daily Blend of Entertainment News
Staff Writer at CinemaBlend.