Batman: Arkham Knight's Batmobile Edition Cancelled Right Before Release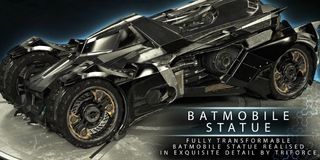 Batman: Arkham Knight's expensive Batmobile Collector's Edition won't be released after all. Warner Bros. has announced that it's being cancelled because of "unforeseen circumstances."
Customers who reserved the $200 bundle through GameStop and other retailers were notified by email that they couldn't fulfill the order. An official announcement from Warner Bros. written last night shed some further light on the situation.
The centerpiece of the Collector's edition was a "fully transformable" statue of the Batmobile. It was presumably similar to the statue released exclusively at San Diego Comic Con last summer that could morph into "battle mode":
One of the other extras in the Batmobile Collector's Edition was an exclusive New 52 Skin Pack. This pack included new appearances for Batman, Robin and Nightwing. Warner Bros. will now be giving that DLC to all players for free, perhaps as a sort of apology for this whole problem.
Warner Bros. didn't elaborate on exactly what went wrong with the Batmobile Edition. It sounds like it must have been catastrophic, though, to force a complete cancellation just days before Arkham Knight's debut. It's really the worst case scenario. I'd imagine that some of the would-be Batmobile owners might want to get the $100 Limited Edition with a Batman statue instead but at this point the supply's probably depleted for that bundle.
Batman: Arkham Knight will debut worldwide on June 23rd for PS4, Xbox One and PC.
Your Daily Blend of Entertainment News
Staff Writer at CinemaBlend.