Batman: Arkham Knight Trailer Reveals New Playable Characters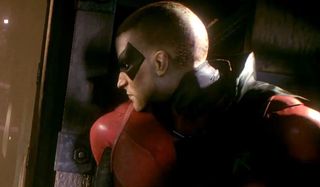 Batman: Arkham Knight's new trailer, "All Who Follow You," debuted this morning. The trailer shows us several characters that players can become in the campaign.
In the trailer, Batman pummels foes with the help of Nightwing, Robin and Catwoman. No, that's not two-player co-op. Instead, it's a new "Dual Play" feature that lets players switch between Batman and his pals in the middle of combat.
The benefits of this feature are clear. You get to use a new character along with all of their gadgets and abilities. Dual Play also enables new cooperative takedowns. For example, Batman body slams a thug and then boosts up Robin so his protege can land knee-first on the guy's chest.
Some of the logistics of Dual Play in Arkham Knight are unclear, though. Are we going to be able to select which ally accompanies us into battle, or will that be determined for us? It's also unknown whether this feature will always be available throughout the game. I wouldn't be surprised if there are moments when Batman has to go it alone, though.
Azrael, another character teased this weekend< also appears in the trailer. His voiceover is nearly identical to his speech from Arkham City. His prophecy from that game has come to fruition thanks to Scarecrow's attack on Gotham along with other villains.
"From the ashes of Arkham City, the fires are raging and Gotham is burning," Azrael says. "I can see that same fire in your eyes. Before this night is over, that fire will consume you."
This speech seems to be another hint that Batman's not going to survive the game. It's possible that Rocksteady's just trying to make us think that so they can surprise us with a happier ending, though.
The trailer doesn't show Azrael teaming up with Batman in combat. It would be a shame if we never got to see him throw down, though. Why give him such a cool sword if they're not going to let him use it?
Arkham Knight's playable characters also include a couple villains. Red Hood and Harley Quinn will each be featured in Story Packs available to pre-order customers. Harley Quinn's DLC is said to be a prequel in which she rescues Poison Ivy from the police, though.
Batman: Arkham Knight will debut on PS4, Xbox One and PC on June 23rd following a recent delay.
Your Daily Blend of Entertainment News
Staff Writer at CinemaBlend.
Your Daily Blend of Entertainment News
Thank you for signing up to CinemaBlend. You will receive a verification email shortly.
There was a problem. Please refresh the page and try again.