Batman: Arkham Knight's Harley Quinn DLC Is Prequel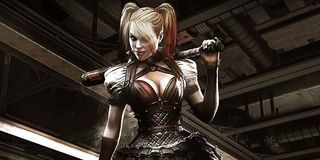 Batman: Arkham Knight pre-order customers will get a special Harley Quinn DLC pack. According to Amazon, this DLC's a lot more interesting than expected.
When we first learned of the Harley Quinn DLC, we were told it included four exclusive challenge maps. Players would control Harley Quinn during these maps and complete them using her "unique weapons, gadgets and abilities."
A few months later, though, Warner Bros. began describing the add-on as a "Story Pack." Amazon's listing for Arkham Knight, noticed by Arkhamverse, now reveals the DLC is a prequel starring Harley:
The listing also includes this image of Harley Quinn, apparently in the police department's parking garage:
This DLC could just end up being four challenge maps set in a police station with a thin storyline tying them together. Still, I appreciate the fact that Rocksteady's putting forth some effort to fit these challenges into the storyline for the game. It makes them seem a little more meaningful.
Anyone who's watched the trailers for Batman: Arkham Knight knows how this DLC will play out. Harley Quinn frees Poison Ivy and the two of them join Scarecrow in taking over Gotham City.
The Harley Quinn Story Pack is one of two add-ons offered to pre-order customers. The other is a Story Pack starring Red Hood, the former protege of Batman who takes a more violent approach to crime-fighting. We haven't heard any details about the Red Hood DLC pack yet. I'm interested to find out how exactly he fits into the wider Arkham Knight story, though.
Arkham Knight's Red Hood and Harley Quinn DLC packs are probably the reason that the game is rated Mature rather than Teen like previous games. The ESRB summary mentions that players can kill unarmed characters and a hostage, which sure doesn't sound like something Batman would do. Would Rocksteady really let their game get bumped from Teen to Mature just for DLC, though? Or are we going to become villains during the main Arkham Knight campaign as well?
Batman: Arkham Knight will debut in June on PS4, Xbox One and PC.
Your Daily Blend of Entertainment News
Staff Writer at CinemaBlend.
Your Daily Blend of Entertainment News
Thank you for signing up to CinemaBlend. You will receive a verification email shortly.
There was a problem. Please refresh the page and try again.