Battlefield 3 End Game Brings Back Air Superiority Mode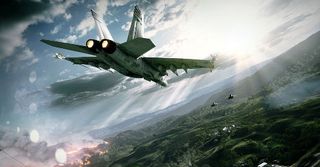 Battlefield 3's upcoming End Game expansion will be well-received by pilots. The DLC will include Air Superiority mode, which is centered around dog fights.
Air Superiority mode first appeared in the downloadable game Battlefield 1943. The mode was unlocked when the player community racked up 43 million kills. It's essentially a territory capture mode except that there's only one point to secure: the air. In order to take control of the skies, a team must have more players in the air than the other team.
The inclusion of the mode in End Game was revealed through the game's Battlelog service to Premium members (via NeoGAF). There was no mention of how it will be altered from its BF 1943 incarnation. Will it just feature fighter jets or will other aircraft be featured as well? Will the airspace be broken into different zones to capture/defend? The original version of Air Superiority was a bit simple and gimmicky so it would be nice to see some enhancements.
End Game, the fifth expansion pack for BF3, will introduce four new maps to the shooter. Three new vehicles will be added to the game, including dirt bikes and dropships. These quick vehicles will come in handy for the new Capture the Flag mode. It's a lot of content but, as the expansion's title suggests, it might be the last DLC released for the game. DICE may turn their complete focus to Battlefield 4 after End Game is released.
DICE plans to release End Game sometime in March. You can secure early access by purchasing Premium membership for the game.
Staff Writer at CinemaBlend.
Your Daily Blend of Entertainment News
Thank you for signing up to CinemaBlend. You will receive a verification email shortly.
There was a problem. Please refresh the page and try again.