Battlefield 4 Battlelog Improvements Announced By DICE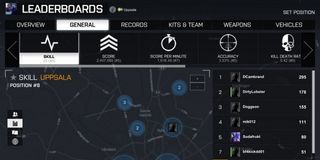 Battlelog, the social service that debuted alongside Battlefield 3, will be returning for Battlefield 4. However, DICE is making some much-needed changes that they outlined today in a blog post.
DICE realizes that BF3, the web browser version of Battlelog, and the Battlelog mobile app each felt like different entities rather than one connected experience. The development team set out to make sure that Battlelog was fully integrated into BF4. A Battlelog widget is now visible in the top-right corner of the game screen. It allows you to see what friends are playing the game right now and can also send you notifications about certain events. Players can also bring up the Battlelog overlay for access to other features.
"This in-game overlay will give you access to tons of Battlelog features. You can see what your friends are doing, check their stats and join their game. You can also see who is in your squad when playing multiplayer and look up their profile. Maybe you want to check your standings on the Geo Leaderboards, or create a Mission. It's all available at any time during the game. You can even see how you're progressing towards your next rank or unlocks in real-time!"
The Missions they mentioned there are new multiplayer challenges for you and up to four friends. You can set certain victory conditions to accomplish in a given round. For example, you could create a mission to see which of your friends can rack up the most kills in any given round. You can further refine the mission with certain conditions, such as a specific map or a limited number of attempts. After 48 hours, the player who performed the best at the given challenge will be declared the winner. No word yet on whether there's any material reward or whether you're just doing it for funsies. I would assume the latter, given the potential for win trading.
The Geo Leaderboards, meanwhile, are rankings with a variety of categories and location filters. DICE realized that players don't find it satisfying to realize that they're 500,000th in the world. In order to boost your ego, you can check the leaderboards for your city, country or state as well. Furthermore, there are leaderboards for weapons, vehicles, kills and other categories so a wide range of playstyles will be recognized.
DICE also touched on some of the mobile features included with BF4 Battlelog. The Battlelog app now recognizes if you're in-game and acts as a second-screen. With your tablet or smartphone, you can browse servers and join a new one. You can also customize your loadout for your next spawn. Next-gen consoles and PC will support BattleScreen, a real-time minimap that lets you mark waypoints for teammates.
BF4 will launch this fall on PC and consoles. A beta test for Xbox 360, PS3 and PC will kick off at the beginning of October.
Image 1 of 8
Image 2 of 8
Image 3 of 8
Image 4 of 8
Image 5 of 8
Image 6 of 8
Image 7 of 8
Image 8 of 8
Staff Writer at CinemaBlend.