Battlefield Hardline Delayed To 2015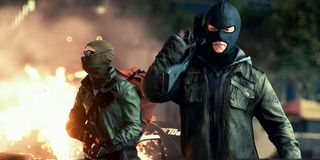 Battlefield Hardline won't be launching this fall. DICE VP and Group GM Karl Magnus Troedsson revealed this evening that the cops-and-robbers shooter will be arriving in early 2015 instead.
Troedsson said that the June beta was the cause of the delay. The development team looked at the feedback from testers and decided they had a lot of work to do to get the game ready.
"We've been pouring over the data and feedback, and have already been putting a lot of it right into the game and sharing it directly with you," Troedsson said on the Battlefield Blog. "This feedback also spurred us to start thinking about other possibilities and ways we could push Hardline innovation further and make the game even better. The more we thought about these ideas, the more we knew we had to get them into the game you will all be playing."
"However, there was only one problem. We would need more time. Time that we didn't have if we decided to move forward with launching in just a couple of months."
One of DICE and Visceral Games's objectives is to make the Battlefield Hardline's multiplayer "truly unique." A common criticism of Hardline's beta was that it felt like a Battlefield 4 mod rather than a full-fledged game. That was certainly my impression. Sure, it had grappling hooks and bags of loot but the core experience was still very close to the usual army vs. army multiplayer of the Battlefield series.
The developers want to differentiate Hardline's multiplayer from the other BF games by "evolving the cops and criminals fantasy." They'll accomplish this with new features suggested by the community. Troedsson didn't say what these features are, though.
The campaign is getting some extra time in the oven as well.
"In order to ensure our Single Player experience delivers on player expectations, we're spending more time polishing our core features, as well as adding a few new ones that will support a deeper "crime revenge" story experience," Troedsson said.
Battlefield's always been a multiplayer-first series, with the single-player experiences only being serviceable at best. I don't think high expectations are really the issue here. I anticipate playing the campaign for half an afternoon, getting bored, and then just abandoning it in favor of the online modes. But hey, if the developers want to make another serious attempt at crafting a palatable story mode, they're welcome to do so.
The extra development time will also be used to ensure a stable launch for Battlefield Hardline. BF4's multiplayer was barely functional for many gamers at launch. The launch problems were so bad that publisher EA was even sued.
"We have learned a lot from Battlefield 4, are continuing to learn from our Community Test Environment and will learn more from another Hardline beta. More time allows us to surface issues that the team can attempt to fix prior to launch."
Speaking of BF4: Troedsson pledged that they'll continue supporting that game. Fourth expansion pack Dragon's Teeth will be available worldwide on July 29th. The fifth and last DLC, Final Stand, will be out later in 2014.
Your Daily Blend of Entertainment News
Staff Writer at CinemaBlend.