E3 2014: Battlefield Hardline Beta Registration Begins But High Demand Causing Problems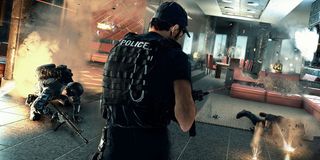 Battlefield: Hardline will be getting a closed multiplayer beta on both PS4 and PC, EA revealed today. Gamers across the world can sign up now for a chance at participating.
Signing up is a painless process. Simply go here and enter your data of birth and platform of choice.
"Remember, there is a limited number of spots so not everyone will get in. You will be notified with an email of your status after completing your registration."
Because EA just announced the beta, there's a huge influx of players trying to sign up. You may want to wait a few hours before you try:
Just think of it as practice for the server problems that Battlefield: Hardline will probably have at launch.
While the closed beta is only for PS4 and PC, those aren't the only two options in the sign-up form. You can also choose "Other." It's not quite clear what that does, though.
"If you're an Xbox One, Xbox 360 or PlayStation 3 owner, the closed beta is not available on these platforms. Don't stress we have some news for you. Select this option and find out what it is."
My guess is that there's going to be an open beta on these other platforms. If Battlefield 4 is any indication, this open test will launch a week or so after the closed beta.
Battlefield Hardline, unlike past games in the series, isn't a war between armies. Instead, the players take on the role of criminals or cops. The criminals try to pull off major heists while the cops must stop them through any means necessary. Each side has numerous weapons, gadgets and vehicles at their disposal.
EA showed off a six-minute match of Hardline during their E3 2014 press conference. The criminals hit an armored car and then tried to escape with the loot. The caper began with a firefight in the streets and ends with a helicopter chase.
I still think that cops-versus-criminals is a weird direction for the Battlefield. I mean, it seems like the robbers are spending more money on vehicles and equipment than they could ever conceivably earn from this armored car. That being said: the footage does look fun and I'm sure I'll end up playing a lot of the game when it launches in October.
Your Daily Blend of Entertainment News
Staff Writer at CinemaBlend.