Bethesda's Pete Hines: 'Everyone Is Entitled To Their Opinion' On Fallout 4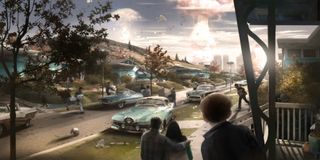 Fallout 4 was announced during E3 2015 at Bethesda's E3 Showcase, and it wowed many of the attendees and viewers around the world.
But it didn't please everyone, as is usually the case with large, divisive releases like this one. There has been some negative backlash with the videos and reveals of Fallout 4 content, and Bethesda marketing chief Pete Hines has taken it upon himself to respond to it. GameSpot reports.
Hines has come forward saying criticism surrounding the upcoming RPG's graphics and other elements definitely doesn't bother them at Bethesda, elaborating further in an interview with Metro:
This is all in reference to an interview back during E3 where the game director Todd Howard had made comments that Fallout 4's graphics may not be the best they could possibly be, but that was a sacrifice made for other reasons. Other claims called Fallout 4 out for looking too similar to Fallout 3, a bizarre complaint given that sequels in line with popular titles like these tend to channel the best of the series anyway since they share a parent game.
It all seems like this should be very obvious, even to naysayers. I've never been of the persuasion in the first place that graphics should be the be all and end all of gaming, especially given the fact that there are hundreds of other elements that join together to create an impressive, cohesive whole. Hines is correct, however. No matter how hard you work on one aspect of a game to perfect it and ensure it's as great as it can be, someone will nitpick another area.
Though I've not yet been able to play the game hands-on just yet, I'm interested to see what happens with these criticisms going forward. I'd also like to be able to compare the previous game and Fallout 4 for myself without making judgments before the game is officially released, so right now I'm just taking the complaints levied by players and Hines' response with a grain of salt.
Fallout 4 releases this November.
Your Daily Blend of Entertainment News
Thank you for signing up to CinemaBlend. You will receive a verification email shortly.
There was a problem. Please refresh the page and try again.