Bio-Bomb Butt Kicker Is Prototype 2 Pre-Order Bonus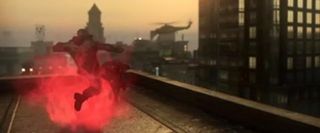 GameStop is offering customers an exclusive pre-order bonus for open-world game Prototype 2. The bonus, called the Bio-Bomb Butt Kicker, is an alternate version of one of protoagonist Sgt. James Heller's abilities.
"Butt Kicker is a fun twist on Heller's already over-the-top new Bio-Bomb ability," said Ken Rosman, Studio Head, Radical Entertainment. "Rather than just throwing enemies once Heller has infected them with the Blacklight virus; Butt Kicker allows Heller to drop-kick punt them across the map, turning enemies into projectiles that rain down devastation from above."
As the video below demonstrates, the ability is quite powerful. Heller uses it to take down a helicopter in one hit. The guy getting kicked is an afterthought but I'm guessing he died, too.
Prototype 2 will launch in North America on April 24th, so you've got two months to mull over the pre-order.
Staff Writer at CinemaBlend.
Your Daily Blend of Entertainment News
Thank you for signing up to CinemaBlend. You will receive a verification email shortly.
There was a problem. Please refresh the page and try again.