BioShock Infinite DLC Now On Sale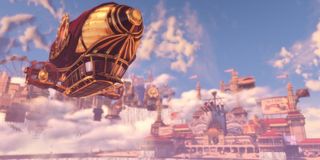 Today Irrational Games released the Columbia's Finest DLC pack for BioShock Infinite on PC, Xbox 360 and PS3. No, this isn't the Infinite downloadable content that you're hoping for.
"This pack combines the contents of the Industrial Revolution Pack and the Upgrade Pack, originally part of the Premium and Ultimate Songbird Editions of BioShock Infinite," says the Steam listing for the add-on. "Start your game with 500 Silver Eagles (in-game currency), 5 Lock Picks to help you navigate through Columbia, and six unique Gear items. The Gear items in this pack, Handyman Nemesis, Sugar Rush, Fleet Feet, Bull Rush, Extra! Extra!, and Betrayer provide damage bonuses, movement speed bonuses or loot bonuses."
"In addition, this download grants access to two weapon upgrades: Comstock's China Broom Shotgun and Comstock's Eagle Eye Sniper Rifle."
So yeah, it's nothing special. You're paying $5 for a slight leg-up in the game. You're probably better off saving your money for the eventual story-based DLC for the game.
BioShock Infinite will have three story-based add-ons in total. They're said to add hours to the game. You can buy each DLC separately for $10 apiece. Alternately, you can get them all at once by purchasing the $19.99 Season Pass. The Season Pass also includes the Early Bird Special Pack, loaded with weapon upgrades as well as infusion bottles to boost your attributes.
No specific details on these add-ons have been announced yet. It's been three months since BioShock Infinite's launch so fans are getting a bit antsy. Today, Irrational Games' Ken Levine said over Twitter that this content is still in the works.
Back in April, BioShock Infinite was updated on Steam with ten DLC achievements. It seemed likely then that an announcement was imminent but today's statement from Levine suggests that we've still got a ways to go until we find out more information.
Infinite debuted on March 26th worldwide. The game received stellar reviews on launch and might end up one of the top-rated games of the year. It's no surprise, then, that the cries for DLC are so loud.
Staff Writer at CinemaBlend.
Your Daily Blend of Entertainment News
Thank you for signing up to CinemaBlend. You will receive a verification email shortly.
There was a problem. Please refresh the page and try again.