Blizzard Says They Can't Help With Real Money Or Item Loss In Diablo 3's RMAH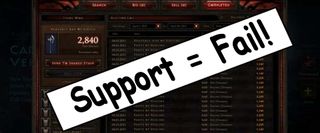 Following closely on the rumors that Blizzard initiated another ban-wave on botters to clean up the game now that they're selling virtual gold as a commodity on the Real-Money Auction House, as reported by Atomic PC, more horror stories emerge for consumers caught up in a vacuum known as the RMAH grey market.
I mean, what's scarier than finding out that you lost real money in a game's virtual market due to a glitch, an exploit or some sort of bug? Probably finding out that the customer support can't do anything to help restore the item or the lost money. Welcome to Diablo III's Real-Money Auction House, folks.
We've been receiving regular reports of individuals losing money to Diablo III's Real-Money Auction House on a number of occasions. Usually the money-loss was associated with the grey area of the RMAH's region policy which enables Blizzard to accept deposited money from a different region but locks the user out of the account if the user attempts to use the money to purchase anything from the Real-Money Auction House.
In this new case, a user sold an item for €7.50, however he neither received his €7.50 for the sale due to an error nor was his item returned. On the flipside, whoever tried buying the item may or may not have received the item, and may or may not have lost €7.50 in the process. According to the user, who wishes to remain anonymous, he shared a screenshot of the transaction and his interaction with Blizzard's support after the item failed to sell and failed to be returned to him. Check out the exchanges in the screenshot here.
It's awesome how over the course of a week they give this poor guy the runaround, providing neither answers nor solutions other than to "wait and see what happens". I'm not sure if that is a sincere response or done in hopes of potentially getting this guy to forget about the money and the item. Notice how Game Master Lonrregon keeps it short and simple as if there really isn't anything else they can do and perhaps the user is left to his own devices, saying...
I can't get over how Lonrregon mixes up REAL MONEY for virtual gold. The user didn't receive his REAL MONEY or get his virtual item back. I didn't know misplacing real money was such a casual thing for Blizzard's customer support?
That response from Lonrregon took place on July 3rd, as indicated in the screenshot. Funnily enough, they didn't do squat for a week. So when contacting support again on July 10th, the user asks what the progress is of the investigation, here is what Game Master Naaldhar had to say...
What kind of cockamamie response is that?
First up, Naaldarh's comments seem to contradict other Game Masters when he says that there's no way to investigate the issue more than they already have because Game Master Kaltonis was the one who revealed that the only time an account was hacked that had a physical authenticator attached, the user's system was overloaded with malware.
Naaldarh's comments also contradicts what was said by Game Master Aaron, as evidenced in this thread, who commented to a Jeff Wubalo that due to a thorough investigation, his case would be handed over to the finance department due to his items and money stuck in processing limbo, as pictured here in this screenshot. Wubalo later had his money processed and paid out to his Paypal account with Blizzard waiving their 15% deduction fee per real-money payouts.
It kind of sounds like if you don't actually pressure Blizzard's customer support by going to the news media or making a fuss about it on the forums, then it just doesn't get resolved at all. Unfortunately, for people who don't expose their own troubles with the RMAH they're basically left without the service they paid for or the real money they attached to that service.
What's worse is that these kind of RMAH errors have been rumored to extend from the RMAH hex exploit currently going around, which is being used to undermine real-money auction trades for exploiters to flip the item for a higher price and profit with real money.
It's really sad because the losers in this are consumers. I guess as long as Blizzard gets their cut then it's all good. Anti-consumerism for the win.
Your Daily Blend of Entertainment News
Staff Writer at CinemaBlend.
Your Daily Blend of Entertainment News
Thank you for signing up to CinemaBlend. You will receive a verification email shortly.
There was a problem. Please refresh the page and try again.