Borderlands The Pre-Sequel SHiFT Codes: Get Free Golden Keys For Loot Now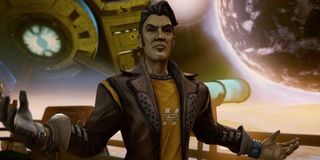 If you need some new gear in Borderlands: The Pre-Sequel, one solution is to redeem SHiFT Codes. These Codes allow you to get Purple quality items for your character.
In order to redeem these codes, you first need to reach main town of Concordia. You'll be able to visit Concordia after a few opening missions in the campaign. Here you'll find a Shift Code Kiosk where you can input these codes. Alternately, you can enter them through the Options menu.
Most SHiFT codes will award you one or more Golden Keys, which you can also pick up at the Kiosk. The keys allow you to unlock the loot chest to the north, near Moxxi's bar and Springs' shop. Each time you open the chest with a Key, you'll get up to four weapons or shields of purple quality. They'll be either your character's level or one level above.
Occasionally SHiFT codes will give you something other than Keys, though. Gearbox gave out character skins, mods and other items as rewards for Borderlands 2. It's likely they'll do the same for The Pre-Sequel in the months ahead.
"If you save them for when you are a higher level, you will get more powerful weapons," Gearbox explains on their forum. "However, using them early will help you level faster until you find a legendary."
These codes will often expire a matter of days after they're released. Others will expire once an (unknown) amount of players redeem them. Keys in your inventory won't expire, though, so you can redeem codes as soon as they're released and then hang onto them as long as you want.
Here's the current list of active SHiFT codes, broken down by platform. We'll remove old codes once they expire or add new ones as they're announced:
PC
KKK3J-T66R5-BXC3T-JBJJ3-JSF9T
WK5TB-3X63T-3BBBB-TBTJJ-XSCHR
W5KB3-C663B-3J3JJ-TJT3J-HBH6Z
KKWBB-5KS3T-TJBB3-B3JT3-BWBXB
WK5TB-HRFBB-3J333-JBB3J-5HT6F
5CKBB-RRRBT-BJJJT-3BBTB-H3HX6
KCWJB-J9XSS-JBJ3J-BB3TJ-5RR66
WWKTJ-JWKJB-BJ3TJ-3BJTB-TSHBW
PS3
KKK3J-T66R6-HTF5T-SBKJ3-JSFRJ
WK5BT-T66SJ-39353-93KT3-W55RJ
WK5TB-3X63W-9FBCB-ZBWJJ-XSCS3
W5KB3-C663C-9R3KJ-ZJW3J-HBHR5
5KKBJ-FTZJK-ZXJC3-HB53B-R5WFR
WCWT3-5RFZB-TSBKT-9TCB3-H9BFR
5K5BT-SRFZ3-TH3KB-SJCJJ-F5RHK
WK5TB-HRFBC-9R353-SBC3J-5HT39
5CKBB-RRRBW-HRJKT-9BCTB-H3HFZ
KCWJB-J9XSJ-JHJ5J-HB5TJ-5RRKF
WWKTJ-JWKJC-HR3WJ-9BKTB-TSHH5
Xbox 360
KKK3J-T66J3-FZH3X-KFJJ3-JSF6R
WK5BT-T66KR-65636-56JT3-W55CK
WK5TB-3X66X-5CFBF-WFTJJ-XSC66
W5KB3-C666F-5K6JR-WRT3J-HBHS5
5KKBJ-FTZRR-WWRB6-CF33B-R5WKC
WCWT3-5RFWF-XKFJX-5XBB3-H9BXW
5K5BT-SRFW6-XC6JF-KRBJJ-F5RXW
WK5TB-HRFFF-5K636-KFB3J-5HTC5
5CKBB-RRRFX-CKRJX-5FBTB-H3HZF
KCWJB-J9XKR-RCR3R-CF3TJ-5RR93
WWKTJ-JWKRF-CK6TR-5FJTB-TSH5C
Gearbox will announce new codes in the future. The quickest way to spot them is to check Gearbox's social media outlets. These are the most common places where they're distributed:
Gearbox CEO Randy Pitchford's Twitter account: https://twitter.com/DuvalMagic
Gearbox's Twitter: https://twitter.com/GearboxSoftware
Borderlands's Twitter: https://twitter.com/Borderlands
Youtube channel for Gearbox: https://www.youtube.com/user/gearboxsoftware
Borderlands on Facebook: https://www.facebook.com/borderlandsgame
Gearbox on Facebook: https://www.facebook.com/GearboxSoftware
Gearbox Software Forums: http://forums.gearboxsoftware.com/
Gearbox will distribute codes through other sites on occasion as well. No matter what the source is, we'll keep posting them here.
Your Daily Blend of Entertainment News
Staff Writer at CinemaBlend.