Boulder Dash XL Now Available For Xbox Live Arcade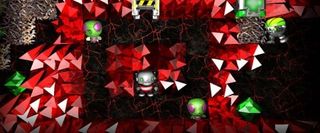 Kalypso Media and First Star Software has announced that the arcade title from Catnip Games is currently available for the Xbox Live Arcade for the Xbox 360. Later this summer a PC version is also expected to release, so gamers who are reading this and feeling bummed about Xbox 360 owners getting all the goodies, cheer up because you'll be getting a chance to dash through some boulders, too.
But updated, new-and-improved gameplay isn't everything. As stated in the press release…
It's basically getting two games in one…well, more like a game-and-a-half but you get the point. Players will dash through caves dodging baddies and trying to nab some jewels. If you've become tired of all the flashy, high-end games coming out recently and you just want to get back to the roots of arcade fun, then Boulder Dash XL wouldn't be a bad way to go.
You can pick up a digital copy of Boulder Dash XL for only 800 MS Points. Need to learn a little bit more about the game before making a purchasing commitment? Well, how about you scope out the features below or learn more by visiting the Official Website
Features of Retro Mode:
• 25 Caves, following the design guidelines of the original game
• Caves created solely using the game elements featured in the classic
• All the classic enemies are there, behaving exactly how they did in 1984
• Glorious 8bit-Soundtrack
• Original graphics and characters rendered in real-time 3D
Features of Boulder Dash-XL include:
• An updated HD look and feel, featuring 720p graphics
• 4 new game modes: "Puzzle", "Zen", Time Challenge" and "Retro" in addition to "Arcade"
• Retro Mode's 25 new Caves use 3D interpretations of the original bitmap graphics from 1984
• New scoring mechanism adding new excitement and challenges for High Score hunters
• Four beautiful and varied game worlds
• Over 150 all-new Caves to explore while battling monsters and grabbing gems
• Online Ranking Lists / Leaderboards
• Achievements support
Your Daily Blend of Entertainment News
Staff Writer at CinemaBlend.