The Bureau: XCOM Declassified Gets Pre-Order And DLC Details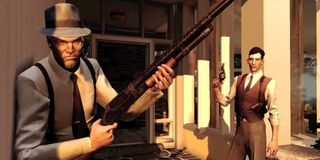 The Bureau: XCOM Declassified hasn't even come out yet, but already the publishers are talking post-launch DLC plans. Expect to get some additional story details, likely for a few extra bucks, after completing the regular game when it releases in late August.
2K and 2K Marin have announced that The Bureau will receive "narrative-driven add-on content" that will "expand the declassified origin story of the clandestine XCOM organization" following the games regular launch. What said DLC will entail isn't explained, but the dynamic duo does mention that they are responsible for the Minerva's Den DLC for BioShock 2. That might seem like a random name drop, but for those who have played Minerva's Den, that's likely a reassuring piece of information. Many consider the story of Minerva's Den to be far superior to that of the game proper, and if we're talking about additional DLC along those lines, well, consider my attention piqued.
"We take great pride in our track record of providing high quality post-release content for our games," said 2K President, Christoph Hartmann. "We will continue to expand the XCOM universe by telling original stories set in the paranoia-drenched Cold War era of The Bureau."
Pre-order bonuses for the game have also been announced, including a special Light Plasma Pistol from participating retailers and the Codebreakers bonus campaign, featuring a squad of operatives infiltrating a government communications facility after the entire building drops off the grid.
Look for The Bureau: XCOM Declassified on Aug. 20 for the PS3, Xbox 360 and PC. For those in need of a refresher, you can also check out the latest screenshots here and the latest trailer here. Hopefully the game makes the most use of its second chance in the spotlight and brings home another successful venture from 2K Games.
Image 1 of 4
Image 2 of 4
Image 3 of 4
Image 4 of 4
Staff Writer for CinemaBlend.