Burnout Paradise May Come To Xbox One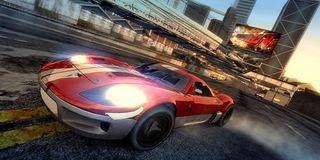 There aren't a heck of a lot of driving games available for the new generation of consoles but, with a little luck, it looks like a fan favorite from the 360-era might be making its way to the Xbox One through backwards compatibility. Rev those engines for Burnout Paradise.
Recently announced through the Criterion Games official Twitter feed, it looks like the developer is trying to bring one of the best arcade driving games of all time to a modern console near you.
"Yes, we ARE talking to Microsoft about making Xbox 360 Burnout Paradise available on Xbox One via backwards compatibility," reads the tweet. "More news soon!"
Well, that's just fantastic to hear. Sure, folks gaming on modern platforms have a handful of drivers to keep them busy, including games from the Forza series, Driveclub (which finally launched its PlayStation Plus edition of the game) and Need for Speed: Rivals, but it isn't like genre fans are exactly drowning in options when it comes to racing for the virtual finish line.
Burnout Paradise, on the other hand, is a fantastic racer from yesteryear that' absolutely packed with content including a couple of major expansions that added an entire extra island to cruise around, motorcycles and more. The game boasted a massive map with various types of landscapes and a ridiculous number or routes, a huge roster of cars and events, as well as all sorts of extra distractions like billboards to crash through and fences to wreck. Oh, and then there was the amazing online mode, which players could drop in an out of seamlessly in order to goof off or compete with friends and strangers alike. For my money, Paradise is one of the top driving games of all time, keeping me glued to the television for a ridiculous number of hours of racing at breakneck speeds.
In other words, if I had to come up with a list of games from the Xbox 360-era that I'd like to see added to the backwards compatibility roster on the Xbox One, Burnout Paradise would be right up there with the likes of Red Dead Redemption, Halo 3 and the Mass Effect trilogy.
In case you've missed out on all of the backwards compatibility talk up until this point, Microsoft announced during its E3 press conference in June that the service will be rolling out to the Xbox One in stages. Basically, collections of titles will be made available for the service in stages, though we don't really know how those games will be selected. However, I imagine having a developer like Criterion actively petitioning to have their game get added to the list is a good way to get the ball rolling. Here's hoping Burnout Paradies makes the cut.
Staff Writer for CinemaBlend.
Your Daily Blend of Entertainment News
Thank you for signing up to CinemaBlend. You will receive a verification email shortly.
There was a problem. Please refresh the page and try again.