CDV Kicks Crappy Economy In The Nuts With Sacred 2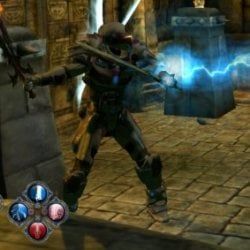 CDV released their financial results for the first half of 2009. The results show that CDV royally owned up while a lot of other companies have been buying the farm and kicking the bucket. Much of CDV's success for the first-half of 2009 was due to the successful release and high sales of Sacred 2: Fallen Angel.
According to the press release…
Those key territories happen to include North America, where CDV made in the top three market position thanks to the action-RPG. There appears to be a trend in the market report for CDV's financial earnings and results and a lot of it includes Sacred 2. However, other software releases in the PC software department also helped boost profits in the first-half, as opposed to the year prior.
Christian Gloe, CEO of CDV Software Entertainment AG also commented in the financial results, saying…
The company seen a number of other significant improvements for the first half of 2009, including net income for the ending year of June 30th, 2009 of 0.4 million euros as opposed to the negative 1.9 million euros of June 30th, 2008. Total revenues also measured 11.3 million euros as opposed to the 6.8 million euros of the year prior.
Need to learn more about CDV and their steamrolling success for the first half of 2009? Well, feel free to visit the Official Website. For more gaming news, updates, insight and media, be sure to stay tuned in with Blend Games.
Staff Writer at CinemaBlend.
Your Daily Blend of Entertainment News
Thank you for signing up to CinemaBlend. You will receive a verification email shortly.
There was a problem. Please refresh the page and try again.