Call Of Duty: Advanced Warfare's Next Exo Zombies Chapter Stars Bruce Campbell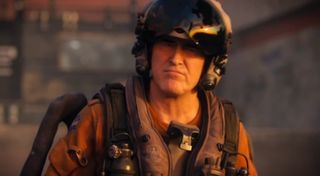 Hollywood actor and television star Bruce Campbell has a prime role in the Exo Zombies map of the new Call of Duty: Advanced Warfare Supremacy DLC pack.
You can see the trailer in action below featuring Campbell as Captain Lennox putting a bullet into the head of John Malkovich's character to get things started off hot and heavy.
Campbell, after killing Malkovich, ends up joining Rose McGowan and the rest of the zombie resistance fighters. Jon Bernthal and Bill Paxton also join the crew. Gamers should remember Bernthal from his iconic role as Shane on AMC's The Walking Dead. Bernthal also had a brief part in Team Bondi and Rockstar Games' L.A. Noire. It's not surprising that Activision would have the actor cast in a role where he's fighting for his life against zombies... well, exo-zombies.
Bill Paxton also seems like a no-brainer being a part of the cast, the Aliens alum has gone down in history for his infamous "Game over, Man" line. Only this time Paxton is now facing off against zombies instead of aliens, but these zombies have super-powered abilities, are as fast as Olympic runners and are as strong as a power-lifter.
Bruce Campbell, for those who are uninitiated with this man's legendary works, has starred in The Evil Dead trilogy, a couple of Evil Dead games for home consoles, and was a regular on the spy show Burn Notice. Heck, he was even one of our picks for a DLC character in Mortal Kombat X. Seeing Campbell making a return to his roots in the B-movie style horror-action genre is about as natural as a hand fitting into a glove.
Also, Rose McGowan being a part of the pack is a no-brainer, she's a graduate of the 90s' horror schlock starring in movies like Scream and Phantoms. One of her more recent contributions to the genre was having a starring role in the Robert Rodriguez flick Planet Terror.
Each of the team members will have access to some of the new weapons and gadgets in the new DLC, including mobile meat grinders, force-shields that slice and dice zombies to pieces, power-ups that offer all sorts of buffs for enhancing the play experience and weapons that can cut through, cut down, blow up and eviscerate zombies like no tomorrow.
The Supermacy DLC also comes jam packed with four other multiplayer deathmatch maps, but I imagine the Carrier map for the exo-zombies will likely be one of the more popular features of the new Call of Duty: Advanced Warfare content.
It may come as a complete surprise, but a lot of people in the YouTube comment section are actually excited about Campbell being added to the cast of playable characters. In fact, most people are yelling for a chainsaw to be added to the mix.
The Supremacy DLC goes live on June 2nd for home consoles and PC. You can learn more by paying a visit to the official website.
Your Daily Blend of Entertainment News
Staff Writer at CinemaBlend.