Call Of Duty: Advanced Warfare Xbox 360 And PS3 Has Different Developer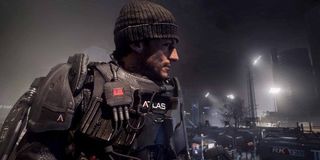 Sledgehammer Games is leading the development for Call of Duty: Advanced Warfare. However, they've handed off responsibilities for the Xbox 360 and PS3 versions to a different developer.
"PlayStation 3 and Xbox 360 owners don't have to worry about Activision forgetting them, as Advanced Warfare will be brought to the last generation of consoles as well," Game Informer said in their cover story about Advanced Warfare. "Sledgehammer will not be handling the development, however. Activision has yet to announce the studio behind these versions of the game."
The current rumor, floated by Superannuation and others, is that High Moon Studios is handling the Xbox 360 and PS3 versions of Call of Duty: Advanced Warfare. High Moon previously developed Transformers: War for Cybertron and Fall of Cybertron.
The rumor seems to be supported by High Moon's job listings. The company is currently hiring a associate technical artist for a "high-profile title First Person Shooter" on Xbox 360 and PS3. Other listings, like this one for a senior UI engineer and senior technical artist, seem to reference the same project.
High Moon hasn't announced a new project since releasing Deadpool last June. Given their experience with action games as well as the Xbox 360 and PS3, they seem like a good choice for ports. I suppose Treyarch and Infinity Ward could do it as well but I'm sure Activision would rather have them focus on their own Call of Duty titles.
Call of Duty: Advanced Warfare is also being developed for Xbox One, PS4 and PC. Hints at a Wii U version were also spotted on the game's website but Activision hasn't confirmed the game for that platform yet.
Advanced Warfare is set in the year 2054. Private military corporations have become more powerful than nation's armies. The largest of these corporations, Atlas, attempts to seize control of the world. The game's first trailer revealed that Atlas leader Jonathan Irons will be played by Kevin Spacey. The player character is Private Mitchell, a soldier in the Atlas Corporation.
The futuristic time period brings all sorts of new technologies for players to wield. They'll ride into battle with hoverbikes or cloaked aircraft. Tools at their disposal include a deployable bullet shield, drones, and an exoskeleton.
Call of Duty: Advanced Warfare will be released on November 4th. The game's launch seems to be simultaneous on all platforms but we'll see if the dates change later in the year.
Your Daily Blend of Entertainment News
Staff Writer at CinemaBlend.