Call Of Duty: Black Ops 2 Earns $500 Million In One Day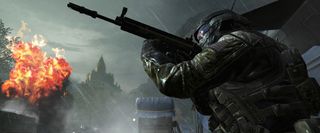 Call of Duty: Black Ops 2 has continued the series' hot streak in sales. Activision revealed today that the game pulled in over $500 million in sales on its first day, making it the biggest entertainment launch of the year thus far.
If BO2 turns out to be biggest launch of 2012 then that will be the fourth year in a row that a new Call of Duty has accomplished this feat. Previous installments Modern Warfare 3, Black Ops and Modern Warfare 2 all managed to rule their respective years.
It's not clear if Black Ops 2 had the biggest launch day ever, though. Modern Warfare 3 was said to have pulled in $400 million in its first day. However, that figure was only based on US and UK sales. Black Ops 2' total is based on "worldwide" sales. It's possible that MW3 outsold BO2 on its first day, or the exact numbers are still being crunched.
Modern Warfare 3 also holds the record for five-day sales. That game managed to pull in $775 million last November. If Black Ops 2 manages to top that, you can beat Activision will send out another press release celebrating it.
If Black Ops 2 fell short of MW3's records, I'd expect to see a lot of editorials about how the series is plateaued or it's on the verge of declining. Regardless, the game has pulled in an absurd amount of money and the Call of Duty series looks like it will be a big seller for Activision for years to come.
Staff Writer at CinemaBlend.