Call Of Duty: Modern Warfare 3 Is The Biggest Entertainment Launch Of All Time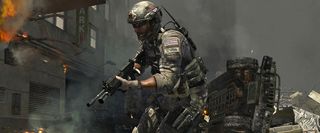 Activision announced the numbers for Call of Duty: Modern Warfare 3's day-one sales today. It seems the game sold 6.5 million in North America and the United Kingdom alone on November 8th for an estimated take of $400 million.
"We believe the launch of Call of Duty: Modern Warfare 3 is the biggest entertainment launch of all time in any medium, and we achieved this record with sales from only two territories," said Activision Blizzard CEO Bobby Kotick. "Other than Call of Duty, there has never been another entertainment franchise that has set opening day records three years in a row. Life-to-date sales for the Call of Duty franchise exceed worldwide theatrical box office for Star Wars and Lord of the Rings, two of the most successful entertainment franchises of all time."
Call of Duty: Black Ops, the previous one-day record holder, racked up $360 million last fall. Black Ops had bested the $310 million record set by Modern Warfare 2 in 2009.
Activision won't be hanging onto all that money. This morning they announced that they are donating $3 million to the non-profit Call of Duty Endowment. The Endowment aims to help returning veterans find jobs. Activision has already donated $2 million to the organization since it was founded in 2009.
Staff Writer at CinemaBlend.
Your Daily Blend of Entertainment News
Thank you for signing up to CinemaBlend. You will receive a verification email shortly.
There was a problem. Please refresh the page and try again.