Call Of Duty: Black Ops 3 Collector's Edition Is Already Sold Out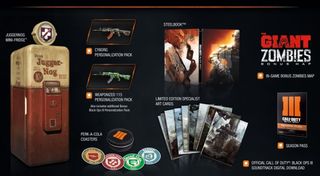 The Collector's Edition for Call of Duty: Black Ops 3 has sold out. It's sold out very quickly because people really, really wanted the working mini-fridge that comes with the Collector's Edition. And yes, there is really a working mini-fridge that comes with it.
Gamespot is reporting that GameStop, amongst other retailers, has completely sold out of the Collector's Edition for Call of Duty: Black Ops 3. In a message to the gaming outlet, GameStop stated...
Yes, gamers jumped on the opportunity to grab the $200 bundle from all participating retailers. As Gamespot notes, all major retailers selling the bundle have sold out.
Being stuck with the Hardened Edition means that anyone who wanted the "Juggernog" edition that features the mini-fridge and other goodies are well out of luck. Of course, don't be surprised if this Collector's Edition eventually finds its way onto eBay where various high sticker prices are likely to keep it moving and shaking amongst the core community.
The "Juggernog" Collector's Edition of Call of Duty: Black Ops 3 comes with a Juggernog mini-fridge that actually works, a cyborg personalization pack, a Blacks Ops 3 personalization pack, and a weaponized 115 personalization – three skin packs for weapons that add different skin variations – a steel book, the season pass, a pack of limited edition art cards featuring Call of Duty concept art, a bonus zombie map for Call of Duty Zombies, a digital download for the game's soundtrack and some perk-a-cola coasters. The coasters are perfect for the beer bottles you keep stored in the Juggernog mini-fridge.
I'm sure most people are wondering about the most important thing about the $200 Collector's Edition and why it's so popular: how many beer cans can it hold? Well, it can hold 12 12oz cans.
I didn't think that the Call of Duty: Black Ops 3 Collector's Edition would be as popular as it is, but apparently people were quick to jump on the limited supply once it was announced. I wouldn't have expected for this to be as popular as the Fallout 4 Collector's Edition, which contained a life-sized, real working version of the Pip-Boy device, but gamers really love mini-fridges and coasters.
Call of Duty: Black Ops 3 features a futuristic setting where for the first time in the series up to four players will be able to cooperatively work together in the game's campaign mode. I don't know how well that's going to tie together with the usual blockbuster stories that the game is known for telling but the multiplayer adds a whole new element of gameplay to the title. Brand new skills from different categories have also been included, giving gamers a variety of ways to tackle missions and take out foes outside of just aiming down the iron-sights and squeezing the trigger.
While the "Juggernog" edition of Call of Duty: Black Ops 3 is all sold out, the game is still scheduled to arrive on November 6th for the Xbox 360, PS3, Xbox One, PS4 and PC.
Your Daily Blend of Entertainment News
Staff Writer at CinemaBlend.